Our North Coast 500 itinerary & report
by Maaike, 8 September 2017
As I said in our North Coast 500 overview post, we took about 10 days to drive this beautiful route in North Scotland. We didn't even drive it completely because we skipped the part from Inverness to the west coast, which was purely because of practical reasons. We arrived by boat in Harwich, England, so the most economical way to drive north wouldn't lead us past Inverness.
Our total time away from home (Utrecht, Netherlands) was 15 days and our time spent on the North Coast 500 was about 10 days. It's quite a drive from Harwich to the Scottish border. We weren't too happy to do that, but the boat from IJmuiden to Newcastle was going to cost 1000 euro, that was just too expensive for us. Therefore, we opted to go for the cheaper ferry (300 euro) and drive 'a little' longer.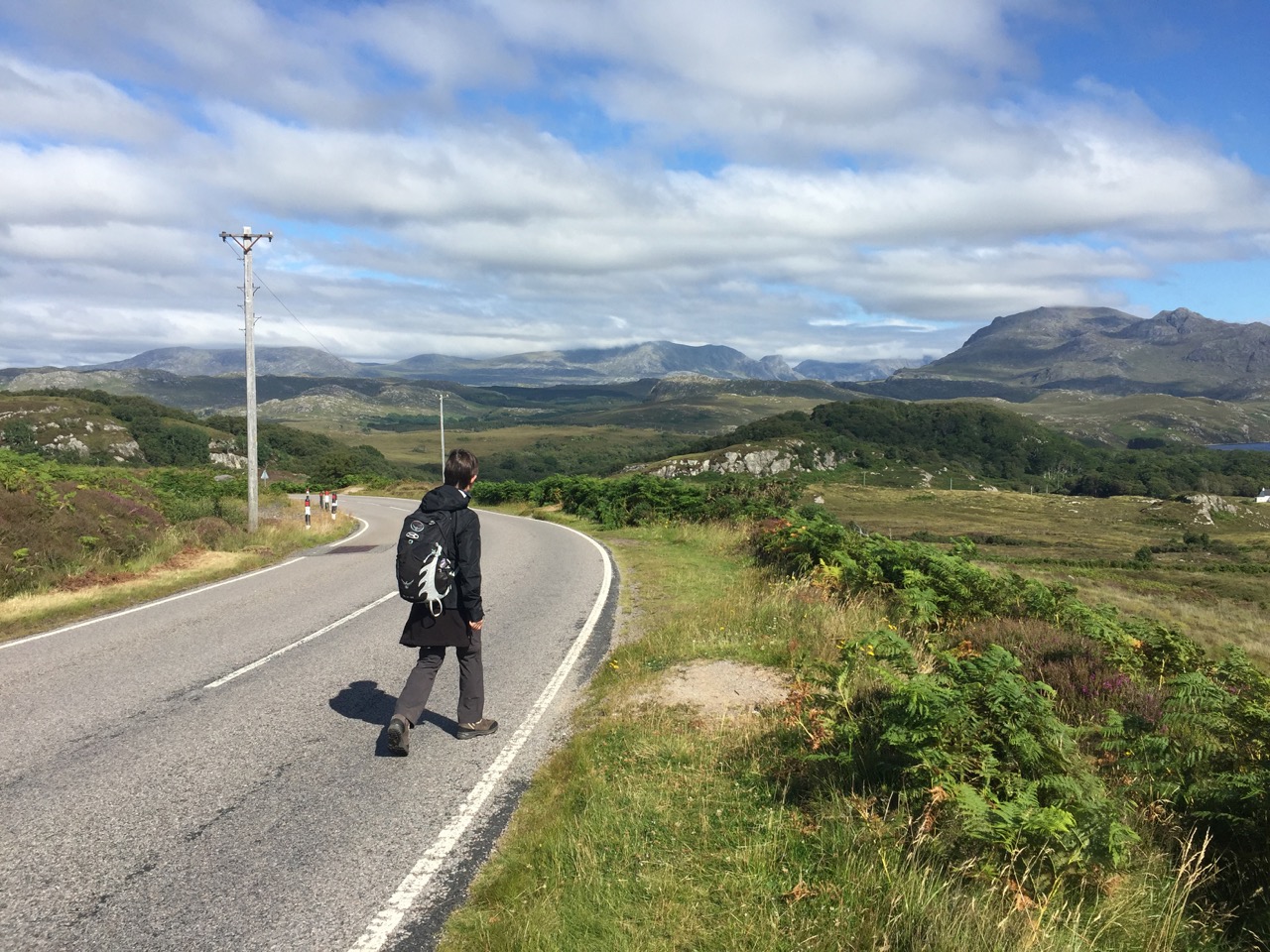 The whole blog post turned out to be huge and diary-like, so grab a cup of tea and saddle up for the ride. If you don't want to read the whole thing, you can click on the day number you want to read about. You can also view our video report!
| Day | Route or activity |
| --- | --- |
| Day 1 | Utrecht to Harwich (not yet on North Coast 500) |
| Day 2 | Harwich to Loch Lomond (not yet on North Coast 500) |
| Day 3 | Loch Lomond to Applecross (start of North Coast 500 route for us!) |
| Day 4 | Applecross to Torridon |
| Day 5 | Torridon to Gairloch |
| Day 6 | Walking at Loch Maree (no driving that day) |
| Day 7 | Gairloch to Lochinver |
| Day 8 | Lochinver to Sheigra |
| Day 9 | Sheigra to Wick |
| Day 10, 11 | Exploring around Wick |
| Day 12 | Wick to Dornoch |
| Day 13 | Dornoch to Aviemore (we passed through Inverness, the end of the North Coast 500 route for us) |
| Day 14 | Aviemore to Jedburgh |
| Day 15 | Jedburgh to Harwich |
| Day 16 | Arriving home |
Google Maps with POI
To spare you some searching, please consult our Google Maps example below. You can copy the map to your own Google MyMaps and edit it to your own preferences.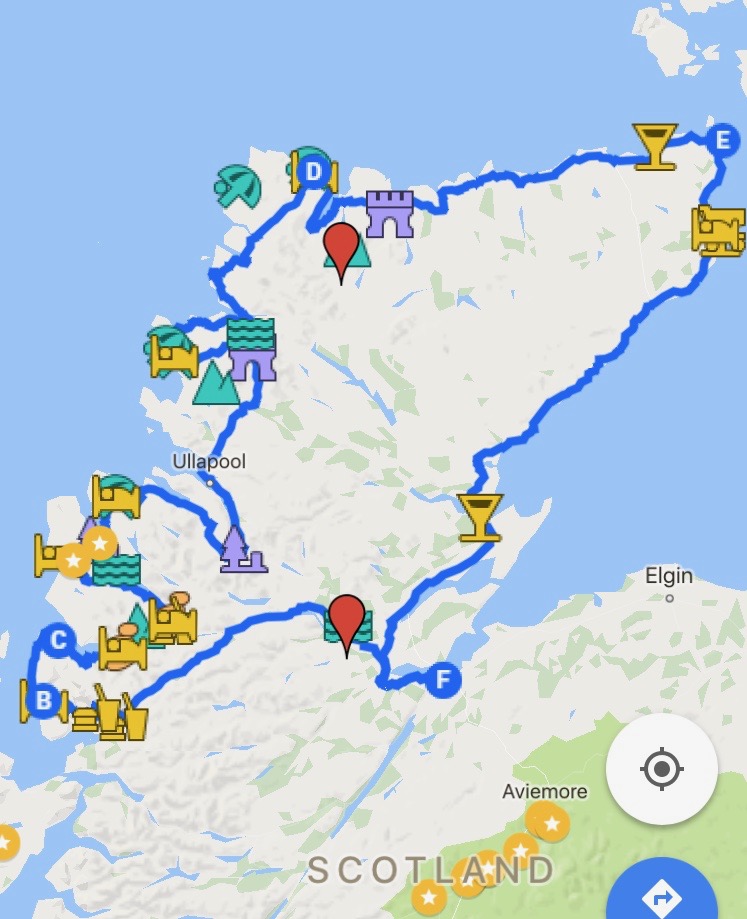 Day 1 - Sitting on Boaty McBoatface
Not too much excitement this day, really. We drove an hour to the Hoek van Holland port and got on the boat to Harwich. It was a 7-hour journey on the ferry and those hours passed, albeit slowly.
We arrived in England and drove 20 minutes to the Strangers Home campsite (they have no website, just turn up and there will be plenty of space). This is the campsite that is the closest to the harbor and it is a fine campsite. We think it's a bit expensive. It was £26 for a car, two people and a tent. The toilet facilities are very good though, one of the best showers we encountered during this holiday (although we didn't know that at that point!).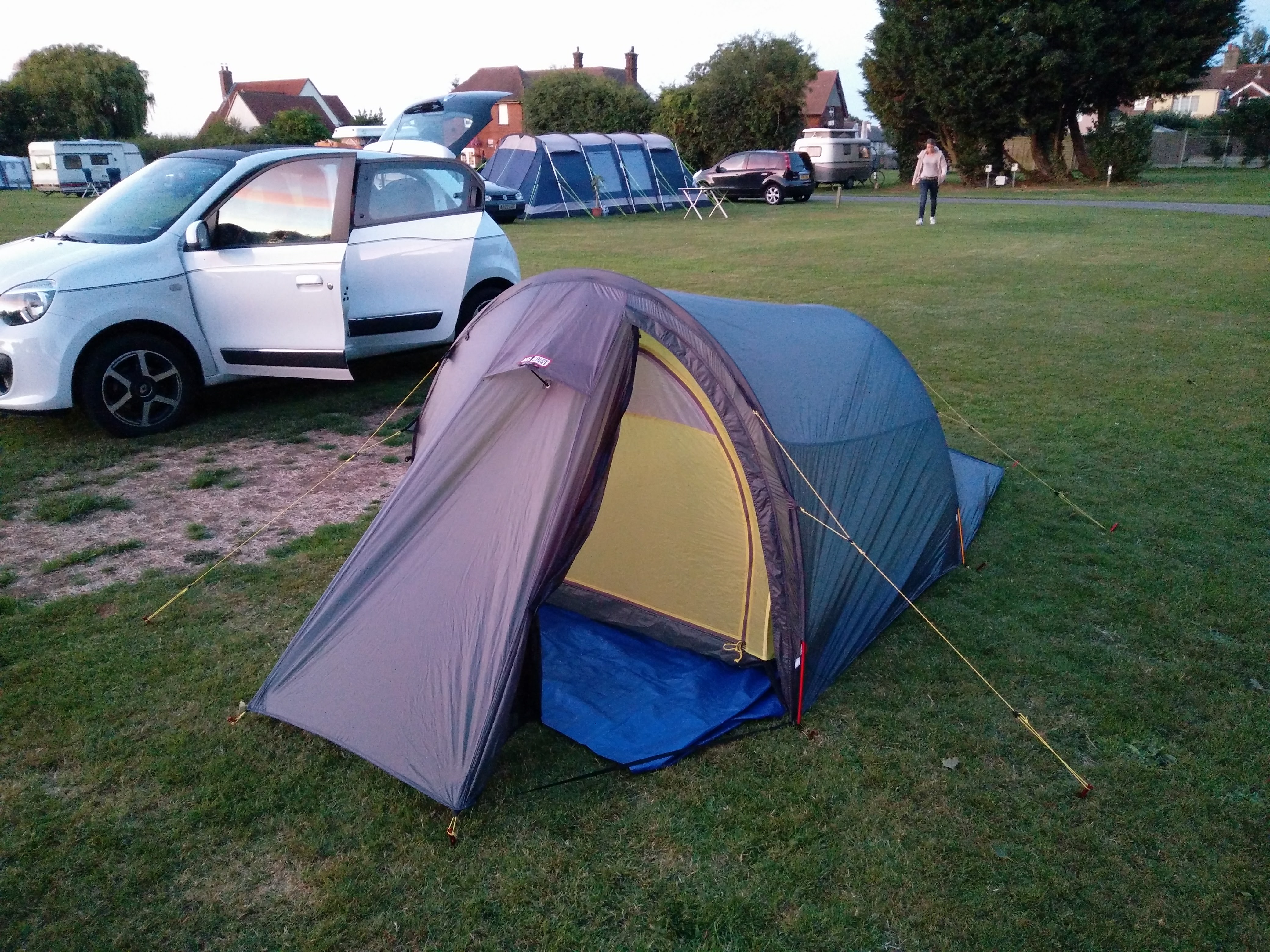 Click here to back to the top of the page
Day 2 - Rolling, rolling, rolling…
Oh, what a long day this was. We left the campsite at 9:30 AM because we had to get used to packing the tent and all our other stuff in the car. Our car is cute, but also very tiny, so it's a bit of a Tetris game any time we pack it with all our stuff. Later in our vacation, we got the hang of it and needed only 45 minutes to get ready to leave (instead of 1,5 hours).
We drove north, past the English landscapes, past countless roadworks, past cities. We got stuck in some traffic. All in all, we spent 9,5 hours just driving and some more during breaks. Our destination for the day was Beinglas Farm Campsite, just north of Loch Lomond.
I had been to that campsite before when I was walking the West Highland Way and I had fond memories of it. I stayed in one of the cabins back then, but this time we would be camping. Now that I had to use their toilet facilities, I can say I'm less fond of the campsite. It was a bit dirty and old. The grassy patch for the tents was very rocky too, so it was hard to get our pegs into the ground. Oh well, it was just for one night. We went to grab our first Scottish pint of beer in the campsite bar and went to bed.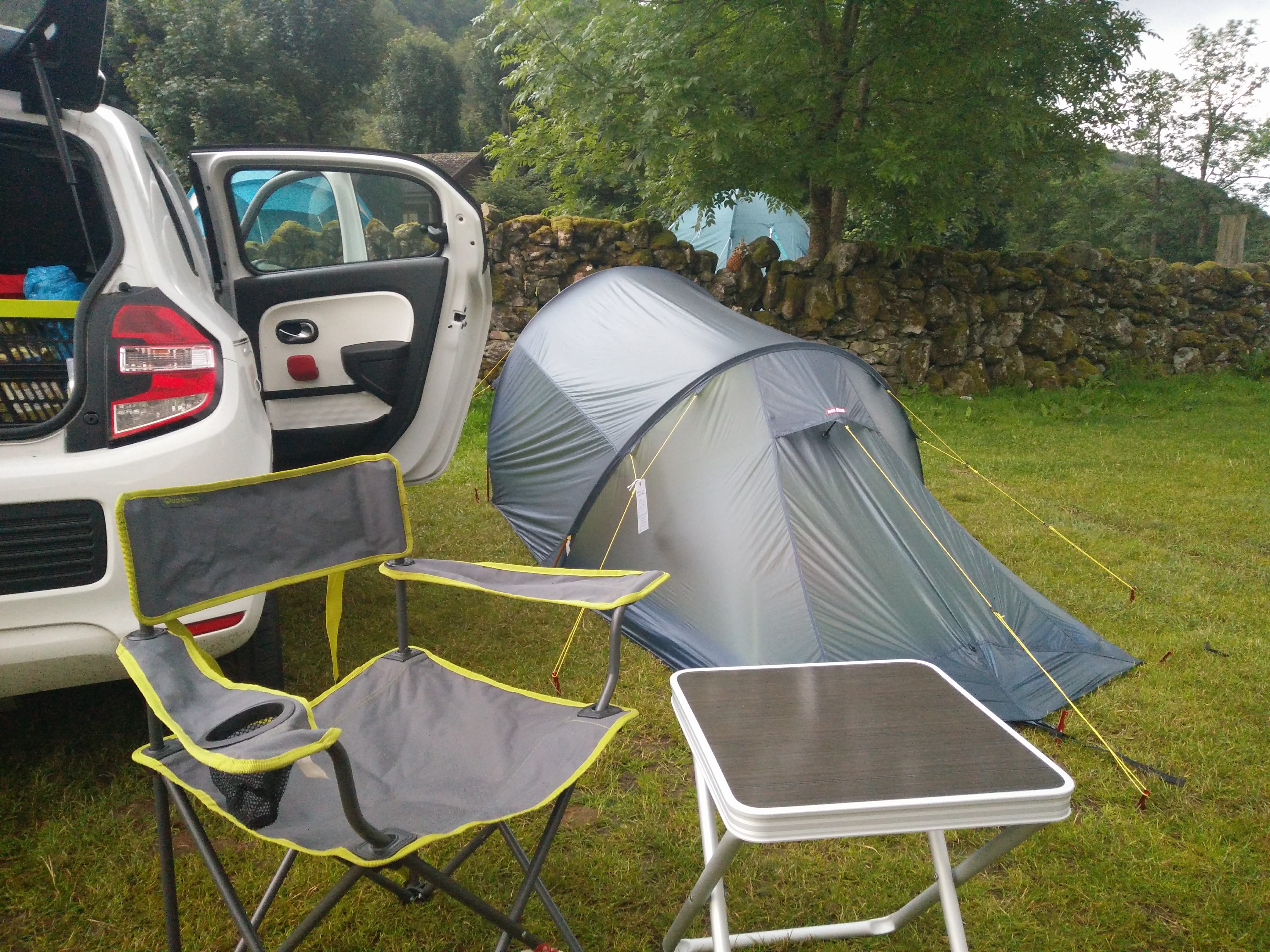 Click here to back to the top of the page
Day 3 - The Highlands, at last
What a relief it was to finally be in the Highlands. I always feel I'm truly there when I see Glencoe valley. The shape of the Buachaille Etive Mòr was barely visible because it was raining heavily. No matter, I know how the mountains of Glencoe look and it wasn't our destination this time.
We passed Glencoe and stopped briefly at Fort William for some grocery shopping. I've been in Fort William so many times now, I know the way without needing Google Maps. That's how much Scotland is my second home!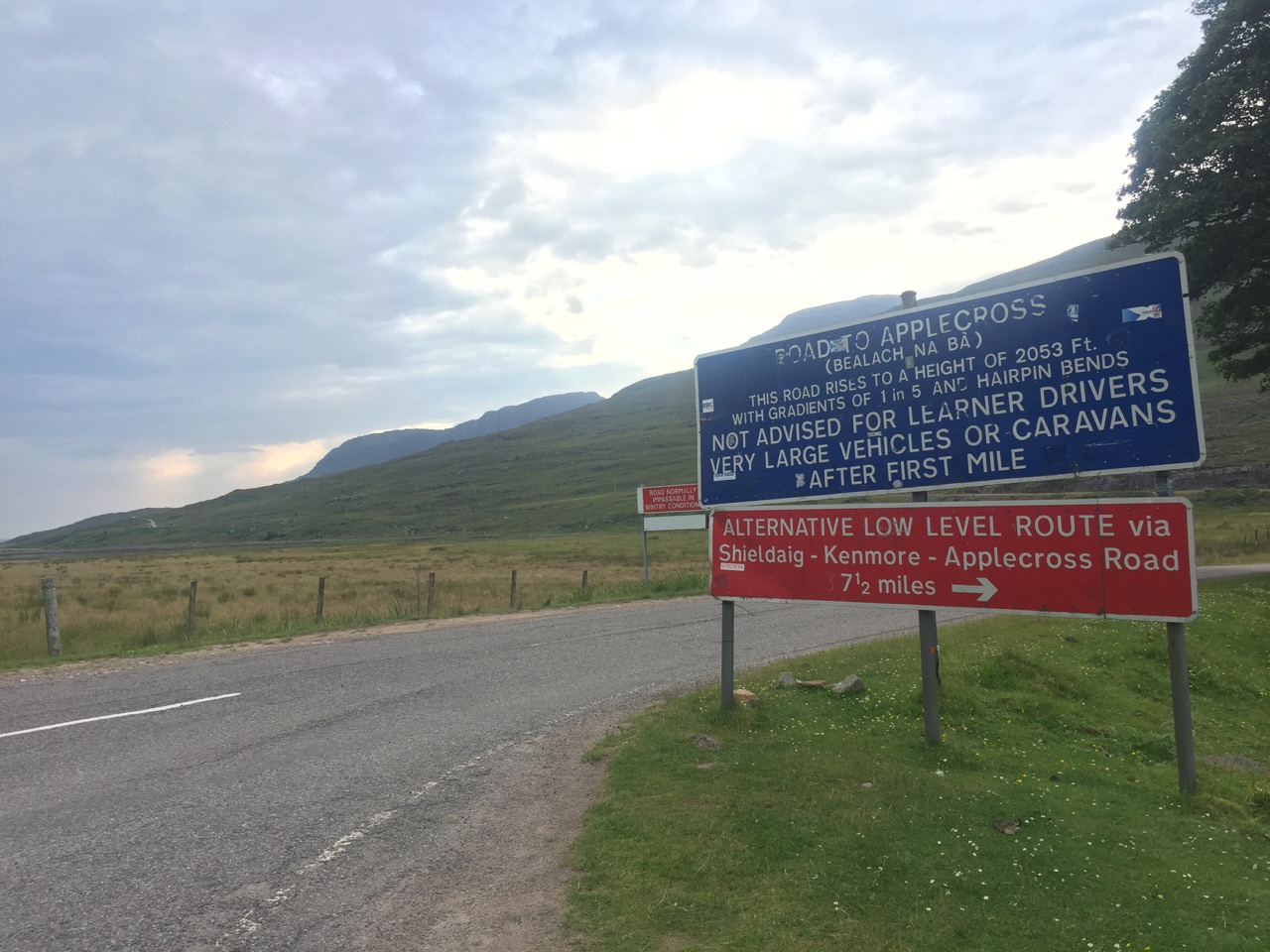 After another 2 hours of driving, we finally reached the point where we joined the North Coast 500 route. We got on the route at a famous point: the Bealach na Bà. This road with hairpin bends leads up to a gorgeous view over the Applecross region. I had looked this bit of the route up on YouTube, and it looked scary, but in reality, it wasn't bad at all! Sure, it helps that we drove a very small car, but the years of experience in driving on the left side and on single-track roads also helped. Oliver drove us up the pass with ease and I could enjoy the views (not really a fair division of tasks, oops!).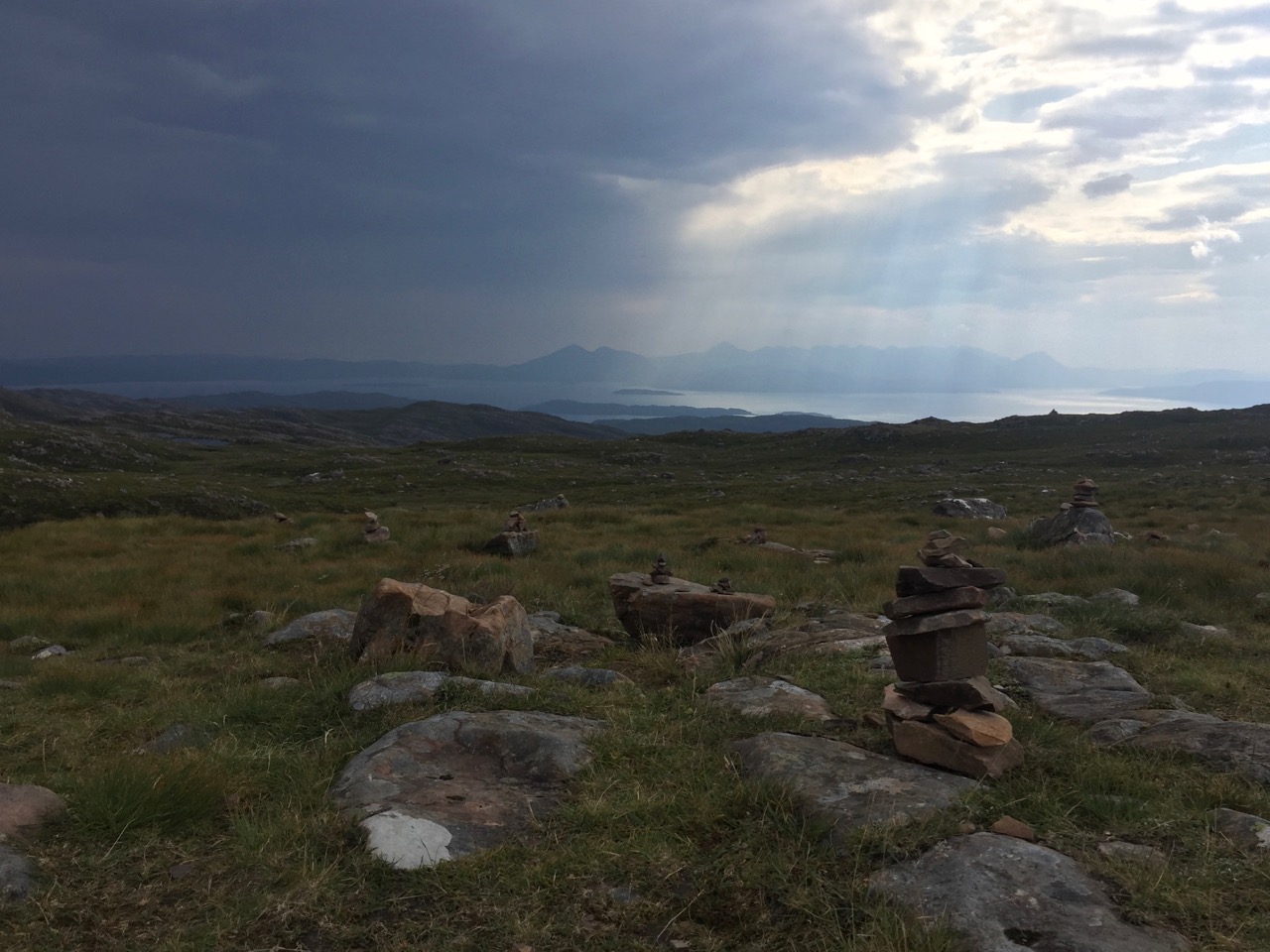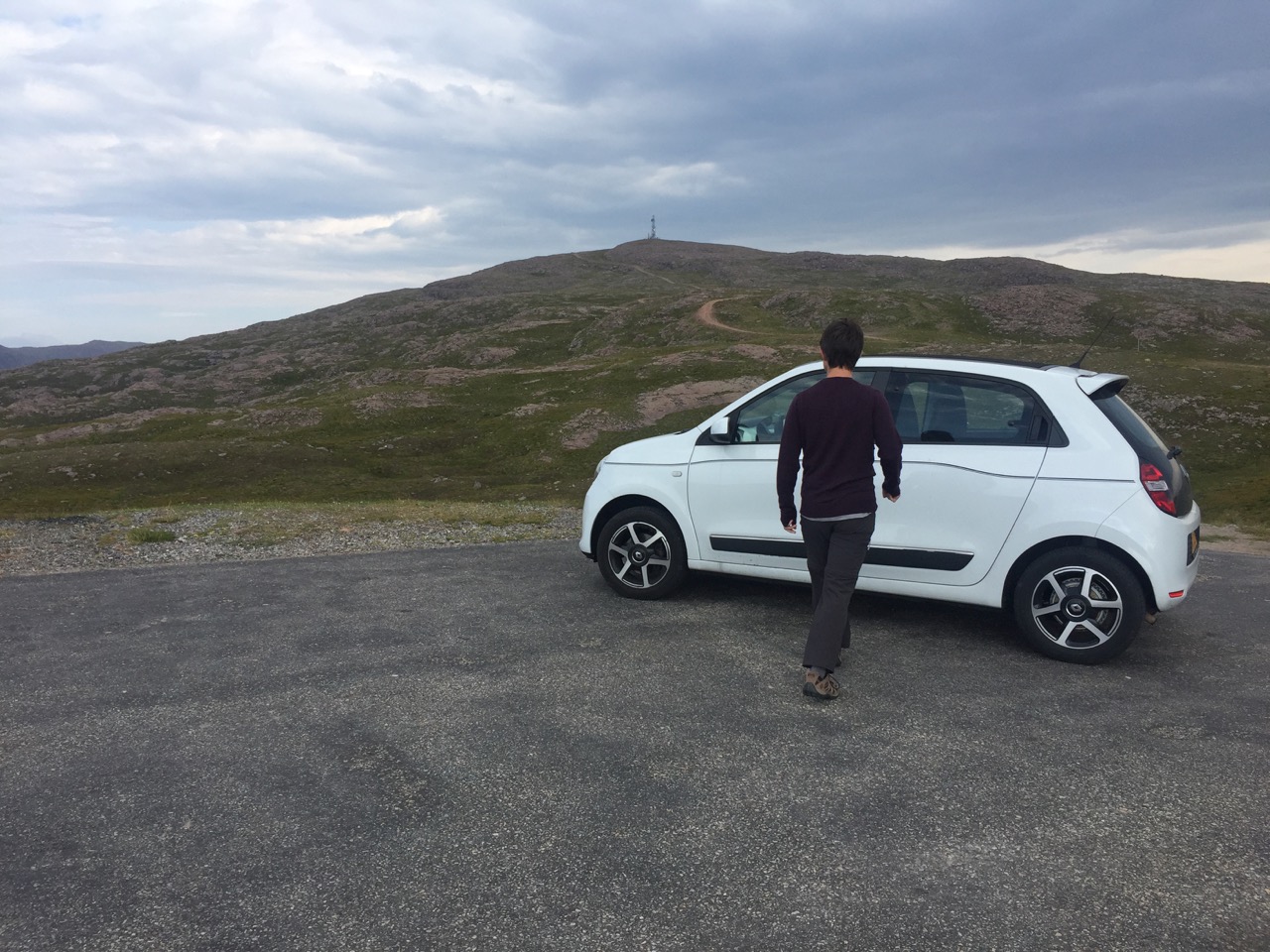 We got out of the car so Oliver could also admire the view. What was even better, we saw blue skies at the other side of the pass, lucky us! When we drove down to Applecross, we were basking in the sun (the roof of our car can be opened).
What we didn't anticipate, were the Highland games happening on the Applecross campsite. It was nice to see the local community, but we didn't feel like crashing their party. We were tired from all the driving and longed for some peace and quiet.
We wouldn't find it that day. We thought wild-camping would solve it, but since we weren't the only ones skipping the campsite we had competition from many others hunting for a nice spot. Near Applecross are 2 grassy fields next to the sea that are perfect for wild-camping. And that's about it. We drove way beyond the fields to search for another spot, but couldn't find any. We went back to the second field and tried to find a reasonable spot. It ended up being more cramped than an average campsite. The views over the Isle of Skye and Raasay were wonderful though, and so was the weather. That meant: hello midge friends!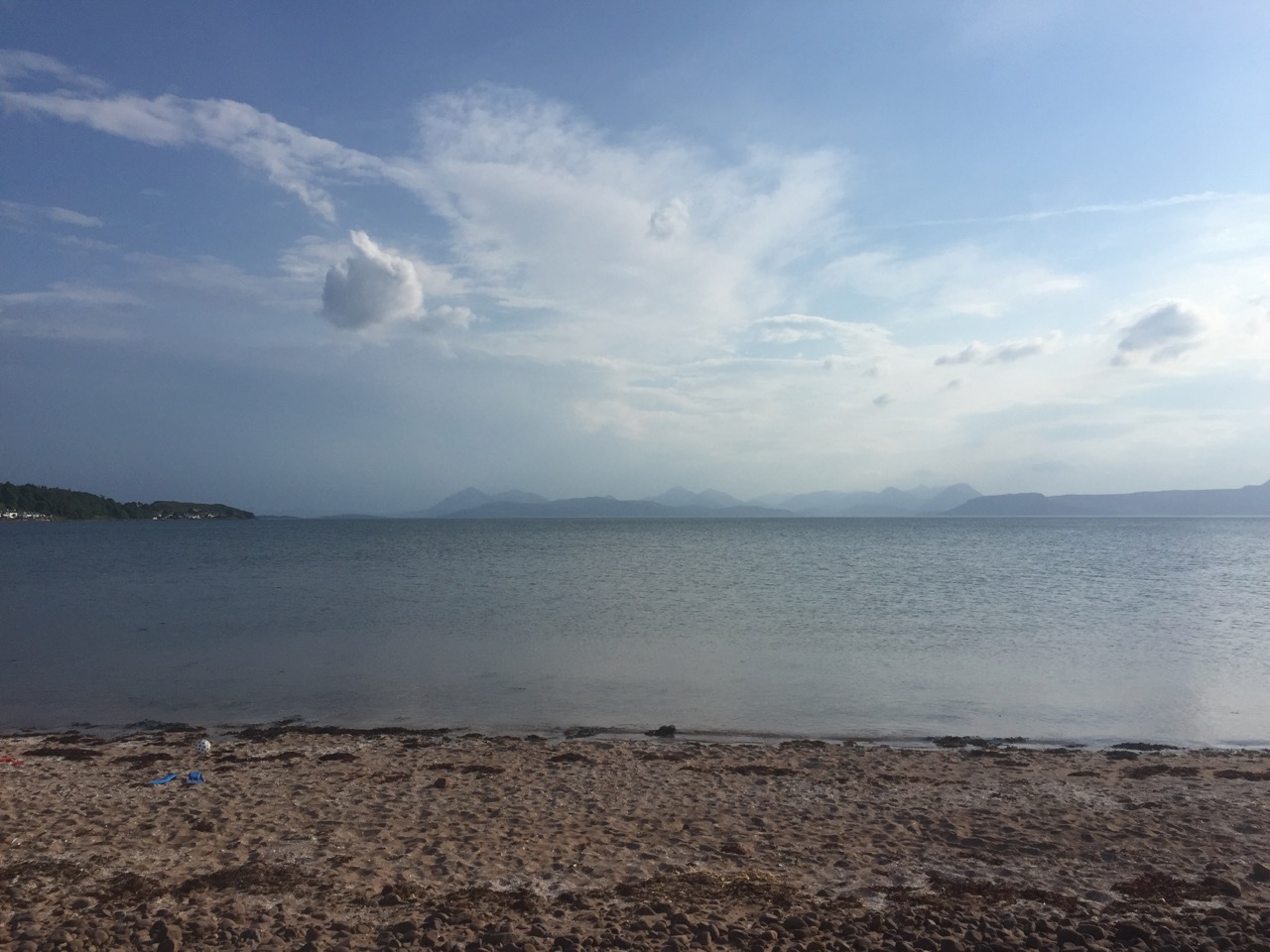 We were afraid that our fellow campers would be very loud (there was some music going on), but in the end, it was the party at Applecross village that kept us awake until 1 AM. The live music sounds from their yearly celebrations carried over the water easily. Oh well, we had to accept our fate for the night and changed our alarm to go off one hour later. We had arrived in the Highlands and on the North Coast 500 route anyway, so we could relax.
Click here to back to the top of the page
Day 4 - The majestic Munros of Torridon
We woke up to an already half empty grassy field. I have no idea why people leave before 8 AM in the morning, but it wasn't the only time that I saw it happening. We enjoyed the views of Skye with a cup of coffee.
Only one hour of driving today, a piece of cake! This was a very beautiful part of the drive. Almost the whole drive is beautiful, but some parts are even more beautiful than normal beautiful. It's hard to describe, but if you drive the route yourself you will know what I mean!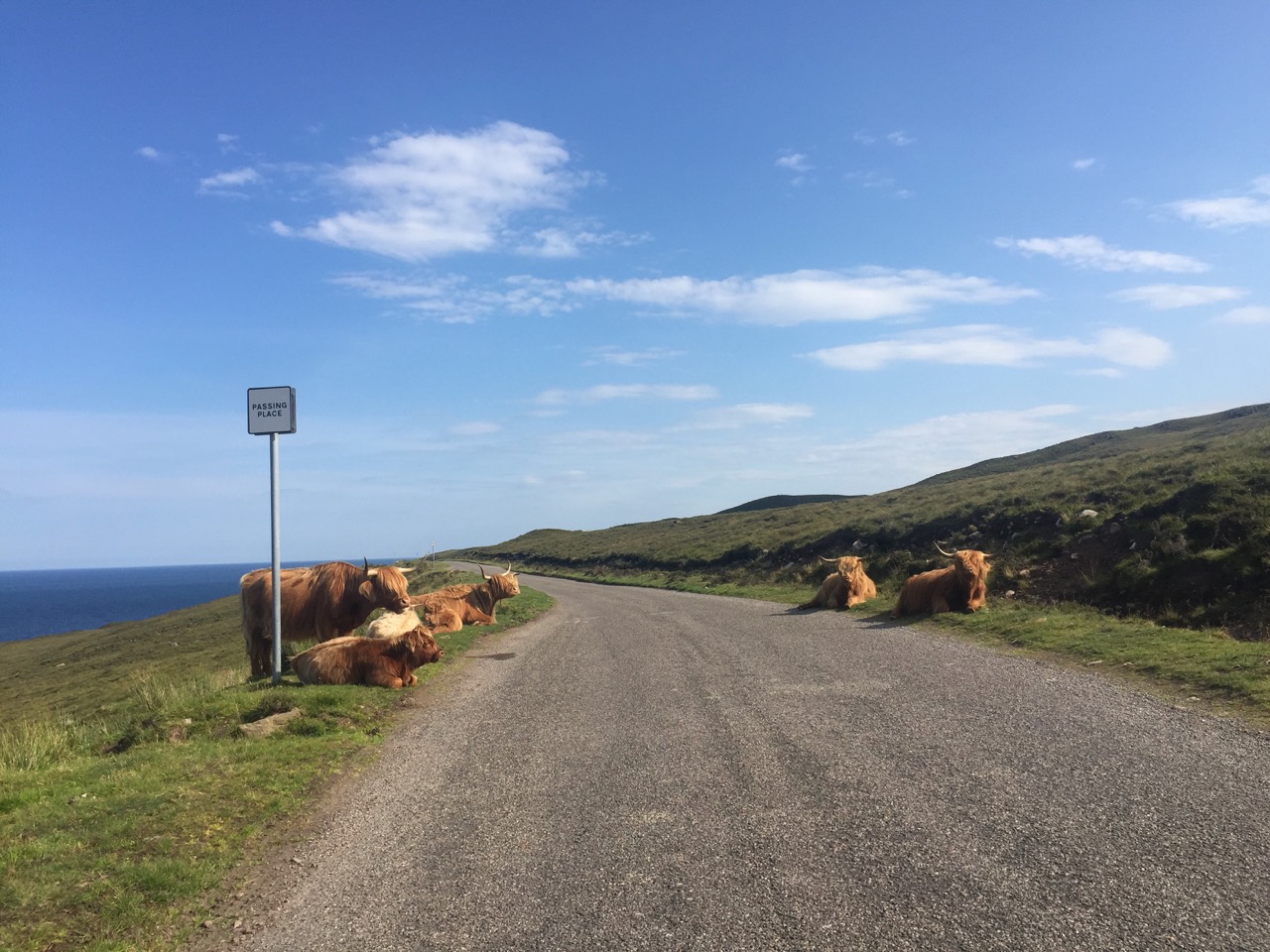 The weather was very forgiving again, with the sunshine and barely any wind. That gave us some more stunning views over lakes, with beautiful reflections. It was hard not to stop all the time (please note that you aren't supposed to stop and park in passing places, that is against the driving etiquette).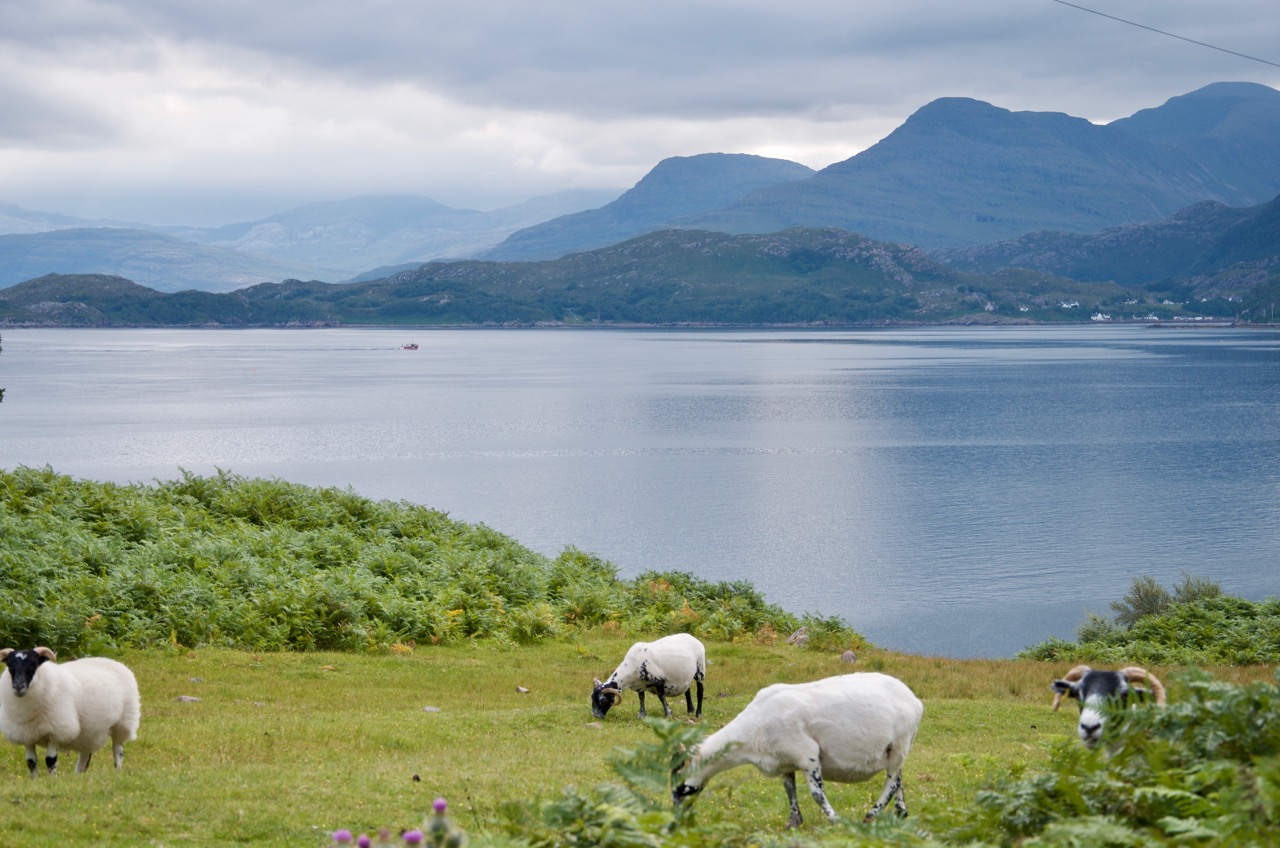 We took a short stop in Shieldaig. This tiny village had a shop that was open on Sunday, which was good news for us. It also had a campsite that looked very lovely, but we didn't stay there. In hindsight, I wish we had. We were aiming to go to the Torridon campsite where I had stayed before, 7 years ago. I remembered it because it was a free (donation based) campsite with good grass to pitch a tent. I also remembered it to be a little midge-infested last time, but that could be fixed by making a small campfire. We arrived and it was suspiciously empty with only 2 other tents. A couple of things had changed since my last visit. You could no longer drive your car on the field and campfires weren't allowed anymore. We pitched our tent anyway, it was just around noon and there were only a couple of midges around. You can't avoid them anyway, so we figured it would be fine…
We left the campsite to go for a nice long walk on Beinn Eighe. We hiked up to the Loch Coire Mhic Fhearchair, where we had a splendid view over the peaks of this mighty Munro. The hike to the loch was strenuous enough for us lowlanders and we were gone for about 5,5 hours total. The weather was amazing still, we did most of the walk in our t-shirt.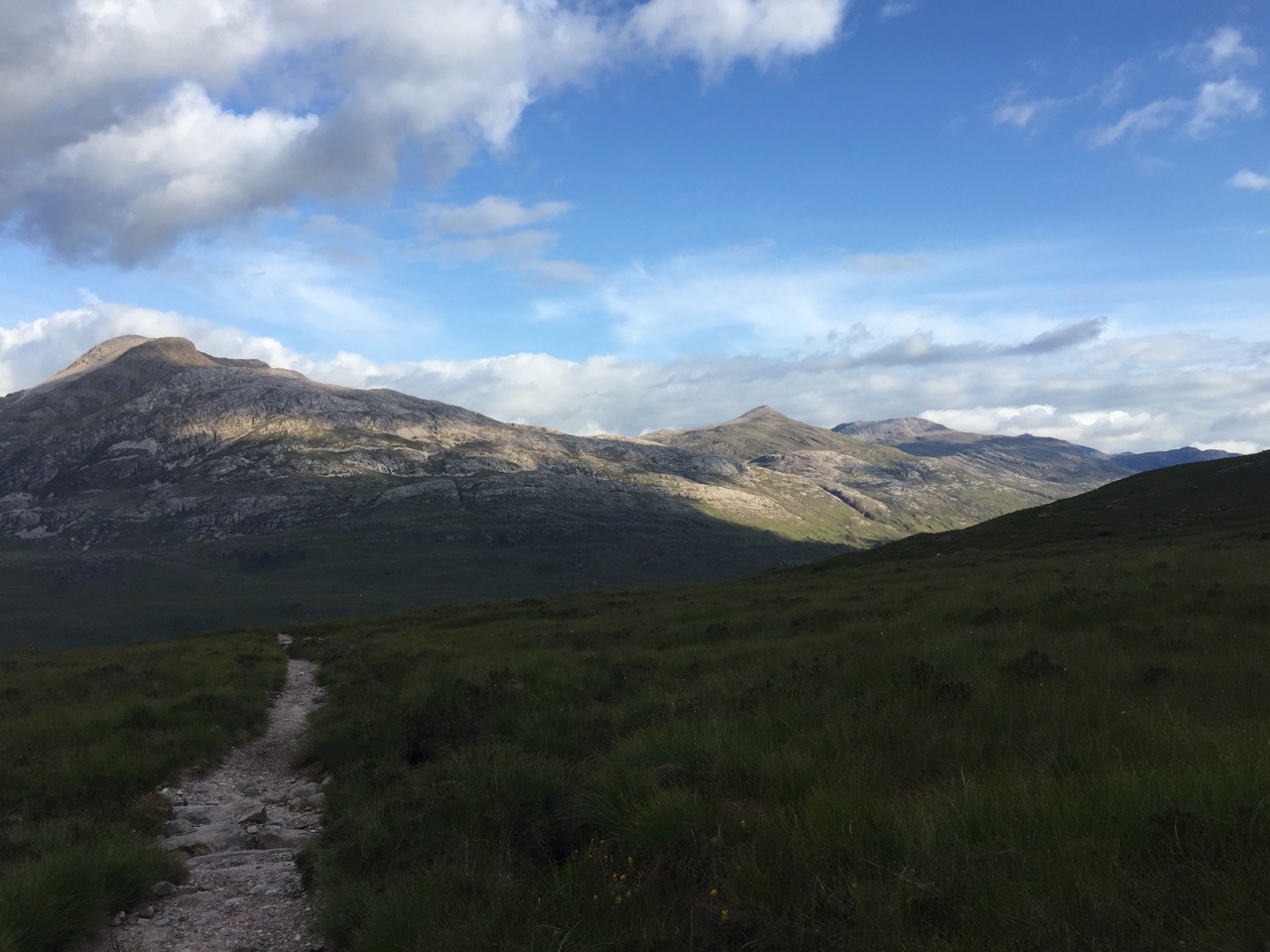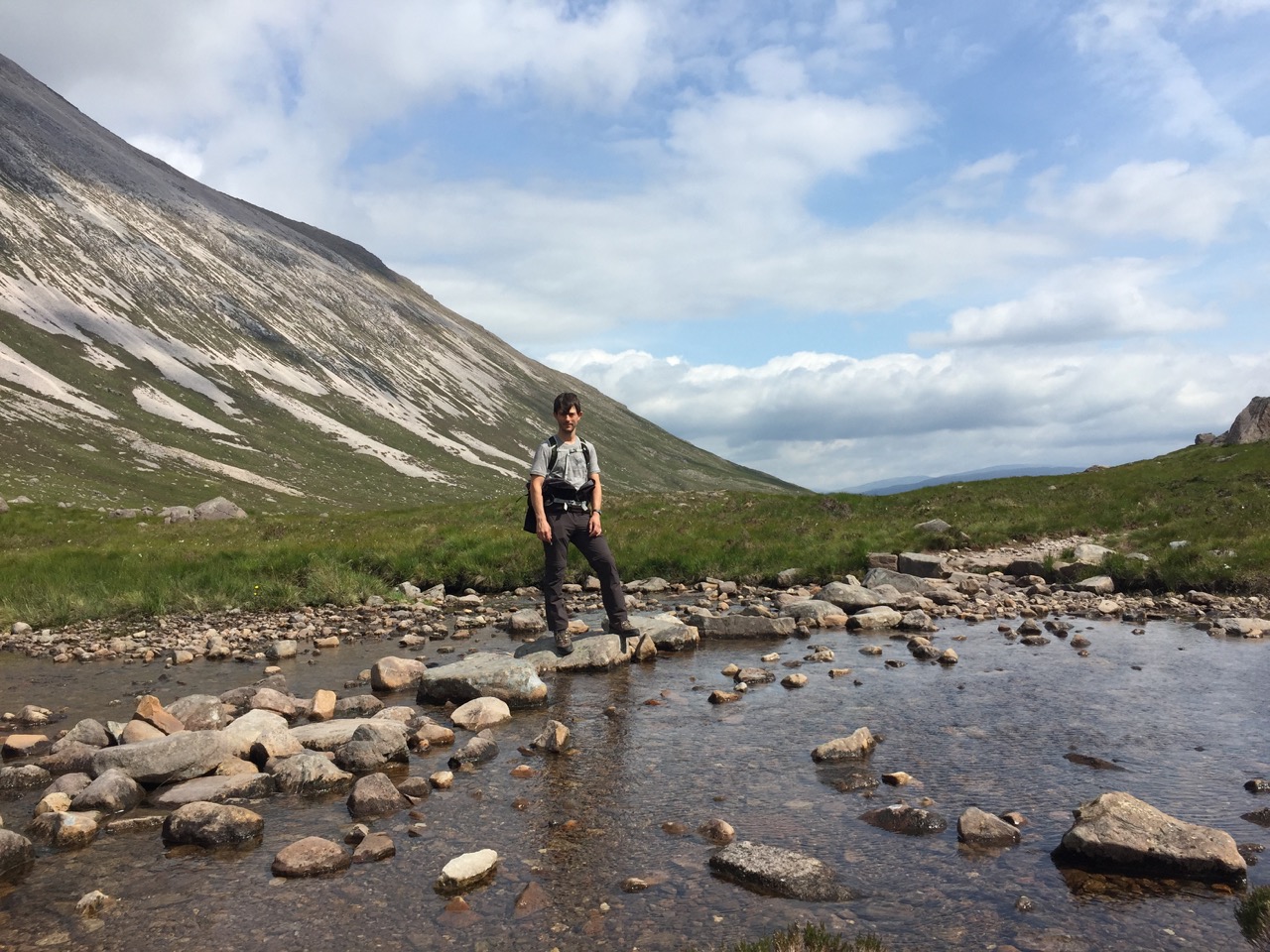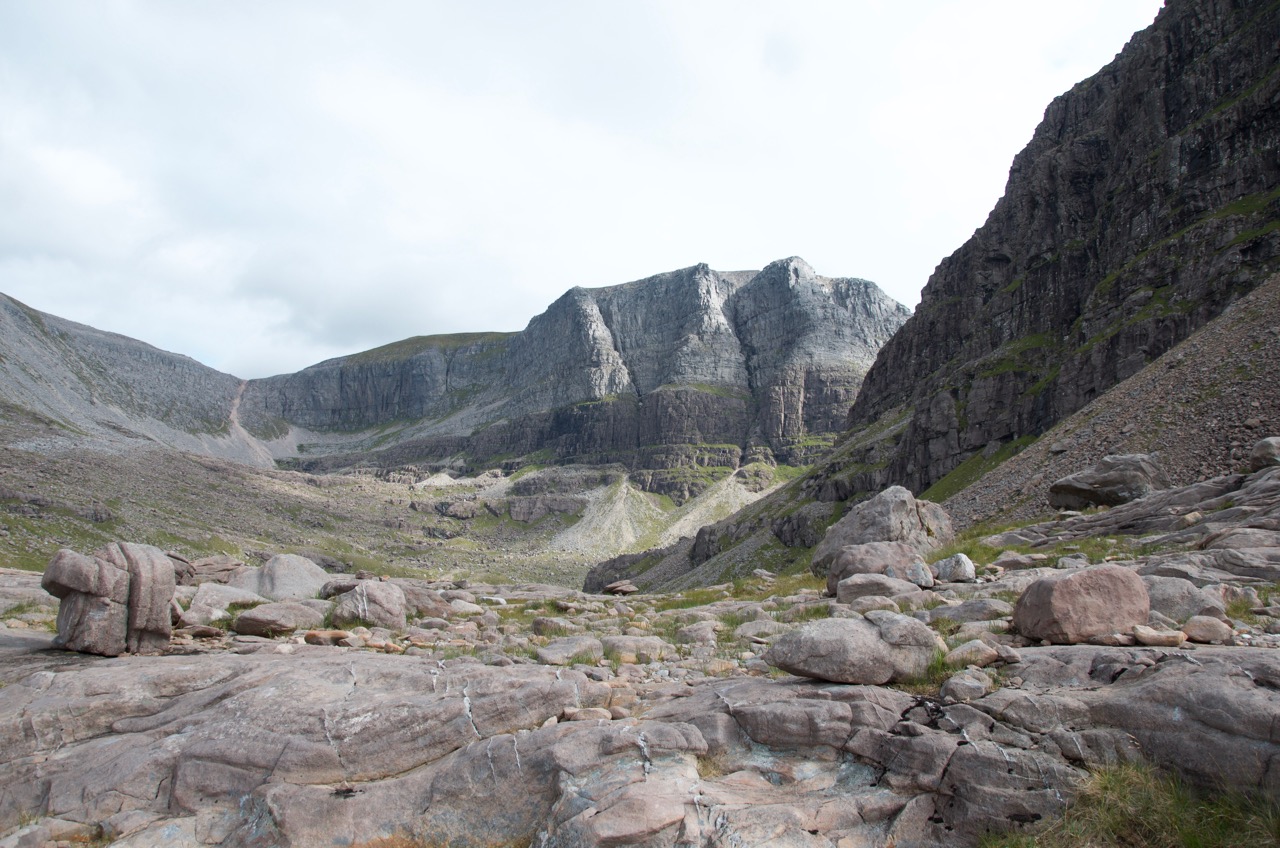 We came back to find the campsite totally infested with midges. The blood suckers were everywhere. We had to flee back in our car, after hastily cooking our evening meal. It was total madness. At one point, the wind came back a little, so that was the cue to get our asses inside the tent without bringing a million midges with us. I always have to pee a lot, so I crossed my fingers that I would be spared for one night.
Click here to back to the top of the page
Day 5 - Getting rid of beasties
We woke up at 8 AM to another beautiful day. For some reason, we had left the outer part of the tent open. I looked outside and saw a trillion midges outside our tent, smiling at us (or so I'd like to think).
Waiting would be pointless and my bladder was about to crack, so I put on my long-sleeve and trousers and mentally prepared myself. 3, 2, 1 and the mayhem began. Oliver naively thought he could just close the tent after I left and he'd be safe, but within seconds, thousands of midges were inside. I ran outside, slapping myself in the face to get them off. I'm so glad no one was around to film me, geez.
Don't ask me how we managed to pack our stuff, but we did. I think we left part of our sanity in that campsite in Torridon. Needless to say, I advise you not to stay there. There's one more reason for this advice…
We were driving to Kinlochlewe when Oliver noticed a tiny black spot on his leg (he was wearing shorts if you can believe it, that's how hot it was!). He said, "I think I've been bitten by a tick". "What?!", I said, "more beasties?". We stopped in a parking lot and examined his leg. He appeared to have at least 10 ticks on his legs alone. Well, crap! I stupidly thought I wouldn't have ticks, but a short examination proved me wrong. We thought about it for a minute. We both had walked on the campsite wearing flip-flops. The grass on the campsite wasn't kept short, it was long, tall grass, one of the favorite places of ticks. We had been very silly walking around in flip-flops. We had basically offered our bodies to those bloody beasties for free. We got scared a little, Lyme disease is no joke. We drove to Kinlochlewe to ask for advice. Of course, they told us to go back to Torridon where they have a medical practice.
In Torridon, they told us to just remove the ticks with a pair of tweezers ourselves. They could do it for us, but it would cost money and the procedure would be the same. In order to remove a tick with tweezers, one must not twist the tick around. Just grab the little sucker with the tweezers and pull decisively. Check if it is removed completely and clean the area with alcohol. Rinse and repeat.
I think we gave some people in the building next to us an interesting lunch break, as we both stripped to our underwear in the parking lot, examined each other and pulled about 50 ticks out. It took 1,5 hours, but we had to be thorough.
So, there you have your two reasons for not staying on the Torridon campsite, it's midge and tick hell. There are many ticks in the area and because the grass isn't kept short you have a higher risk of getting a tick on your body. Of course, outside the campsite, you must take care as well. When you are walking around in shorts, examine yourself each evening.
After this eventful start of the day, we drove to Gairloch. This was a fairly short drive again, but oh so beautiful. You pass Beinn Eighe, insanely pretty little lochs, and the majestic Loch Maree. I couldn't believe how beautiful it all was. I highly recommend taking your time here to stop on some parking places with views over the landscape. We would go for a walk alongside Loch Maree tomorrow, so we drove to Gairloch.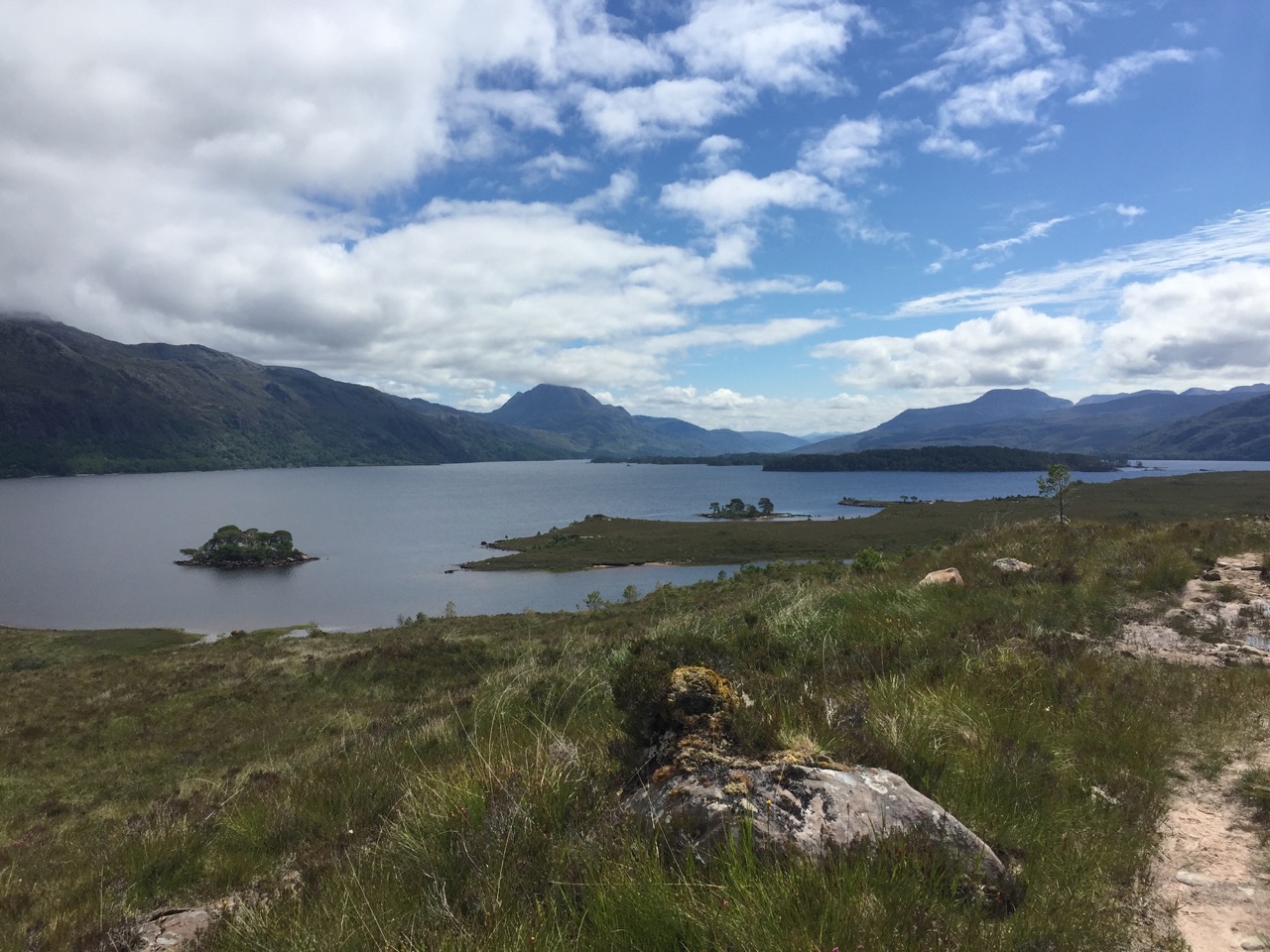 Gairloch is a nice little town with shops, restaurants, and bars. We drove through it to reach Big Sands Campsite. This was hands down the best campsite during our North Coast 500 exploration. I want to go back here and stay at least a week. The campsite is situated in the dunes, with views over the sea. You can pitch your tent anywhere, as long as you respect a 7-meter distance from your neighbor. We managed to find a lovely spot with good privacy and views. The toilet facilities are very good and as a bonus, they have a sort of living room, where you can sit in comfort. Great for bad weather days! We stayed at this campsite for 2 nights and had a grand time. We bought 2 local craft beers in the campsite shop and toasted on our luck with the weather so far, sunny spells galore and no rain to speak of.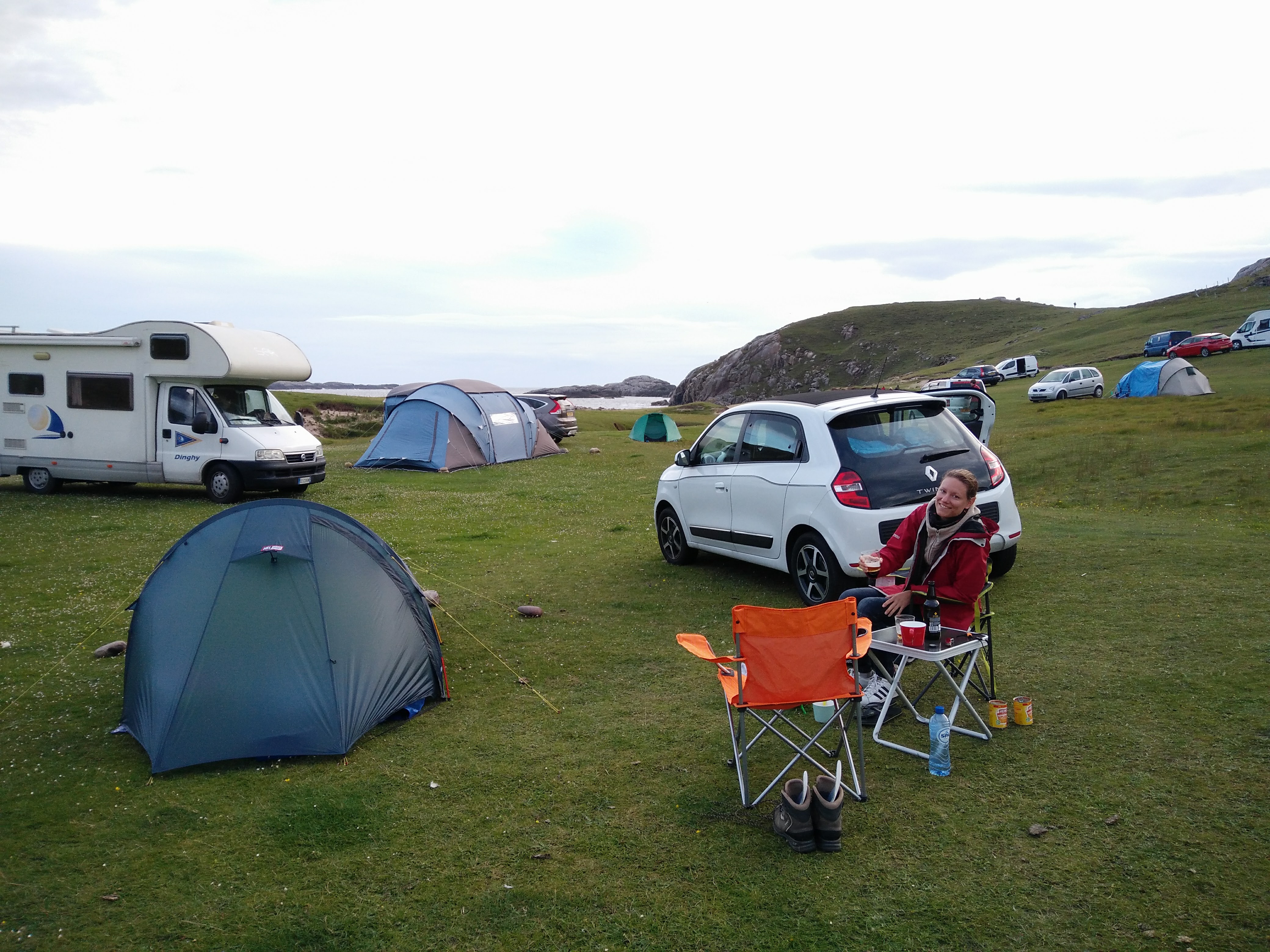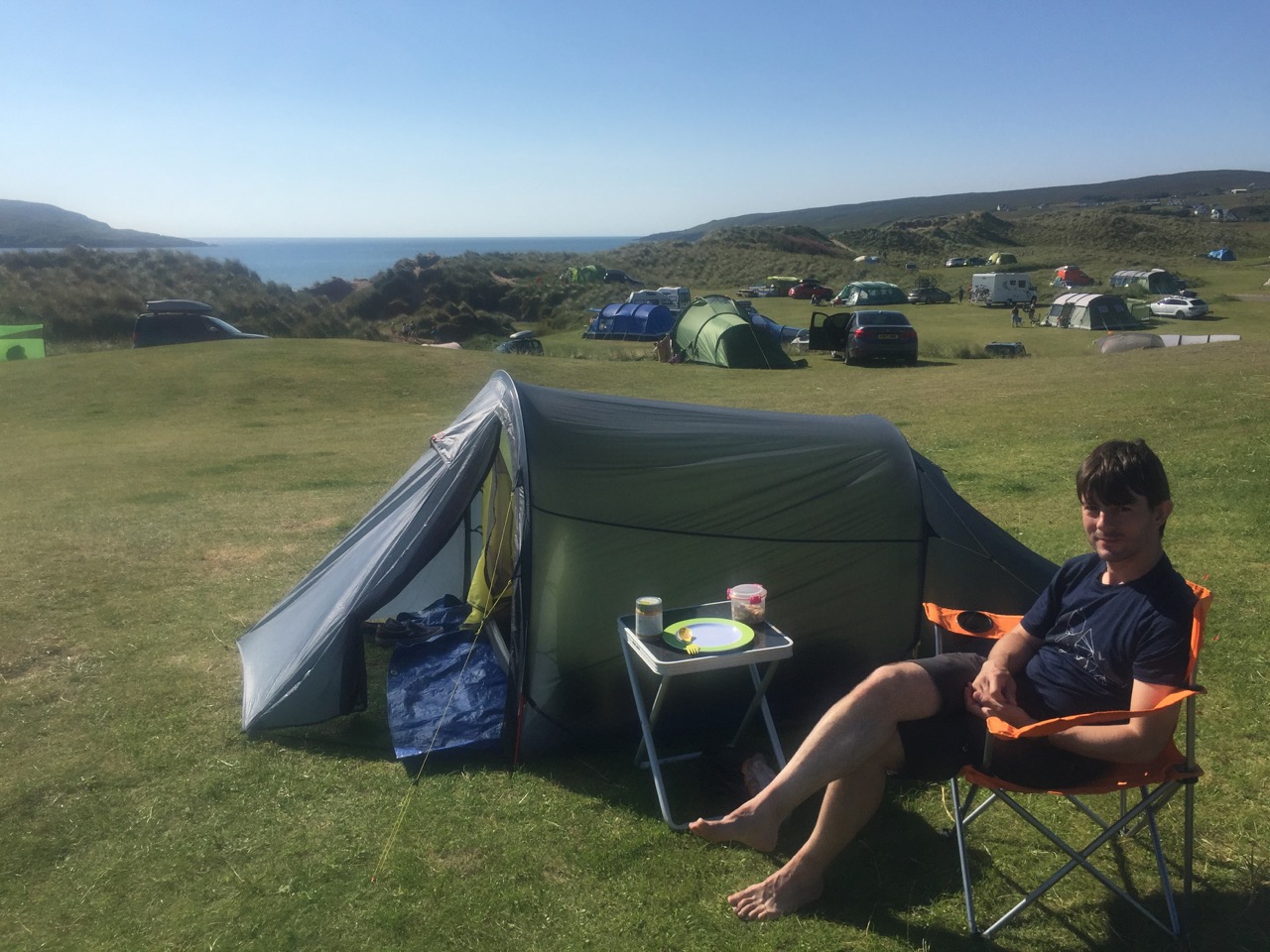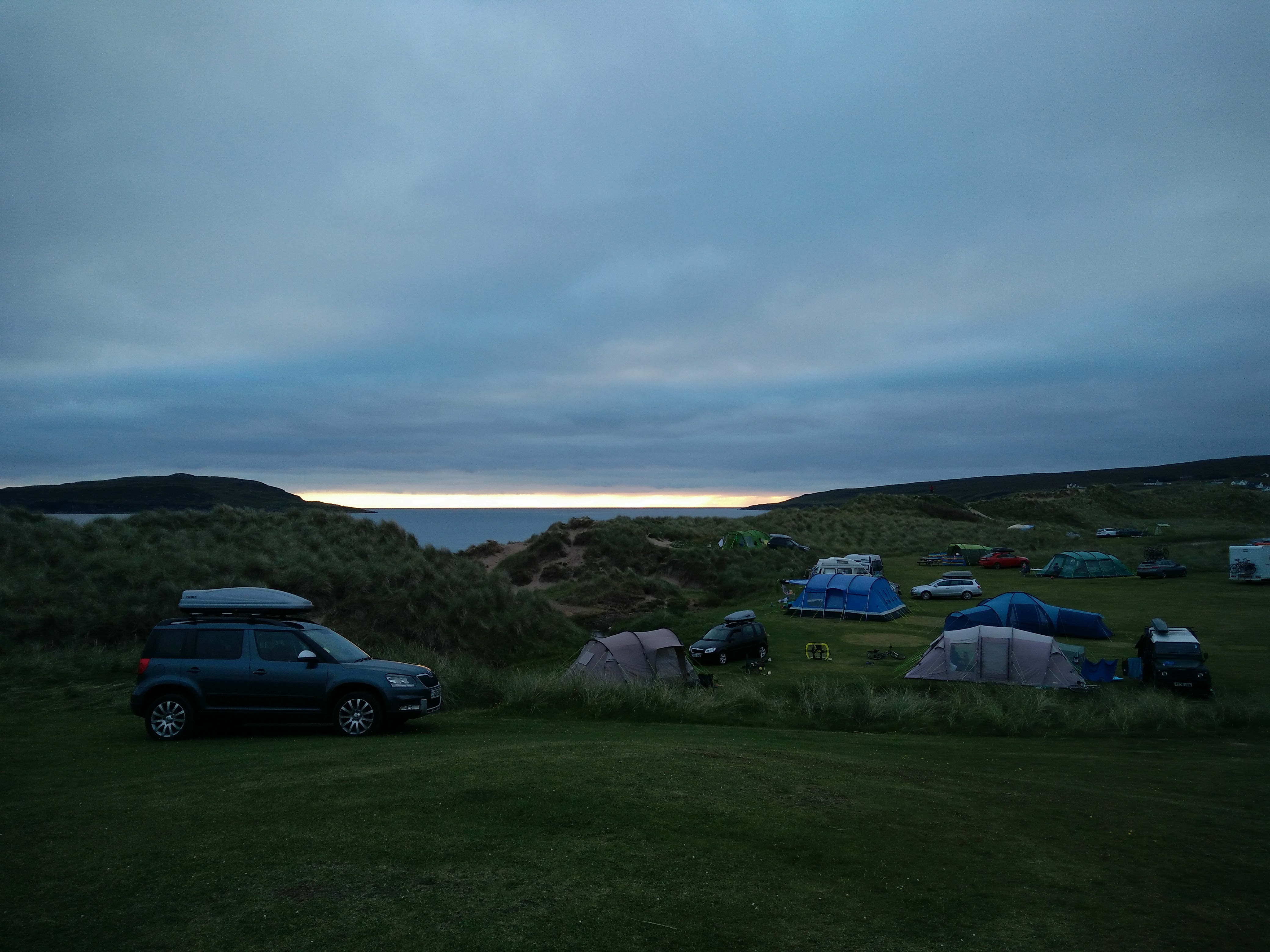 Click here to back to the top of the page
Day 6 - Appreciating Loch Maree
Yet another sunny day dawned, which was a surprise to us. Each time we looked at weather forecasts it looked pretty grim, but the reality wasn't grim at all. This isn't to say that you can't have bad luck with the weather in Scotland, but that you can't just rely blindly on the weather forecast. They say that the weather in Scotland can change every 5 minutes for a reason. Whenever you get bad weather, the thing to do is to face it with a smile. Bring your rainproof jacket and trousers and just go do things.
The rainproof gear wasn't needed for us this day. We walked to Loch Maree from Poolewe in pure sunshine and heat.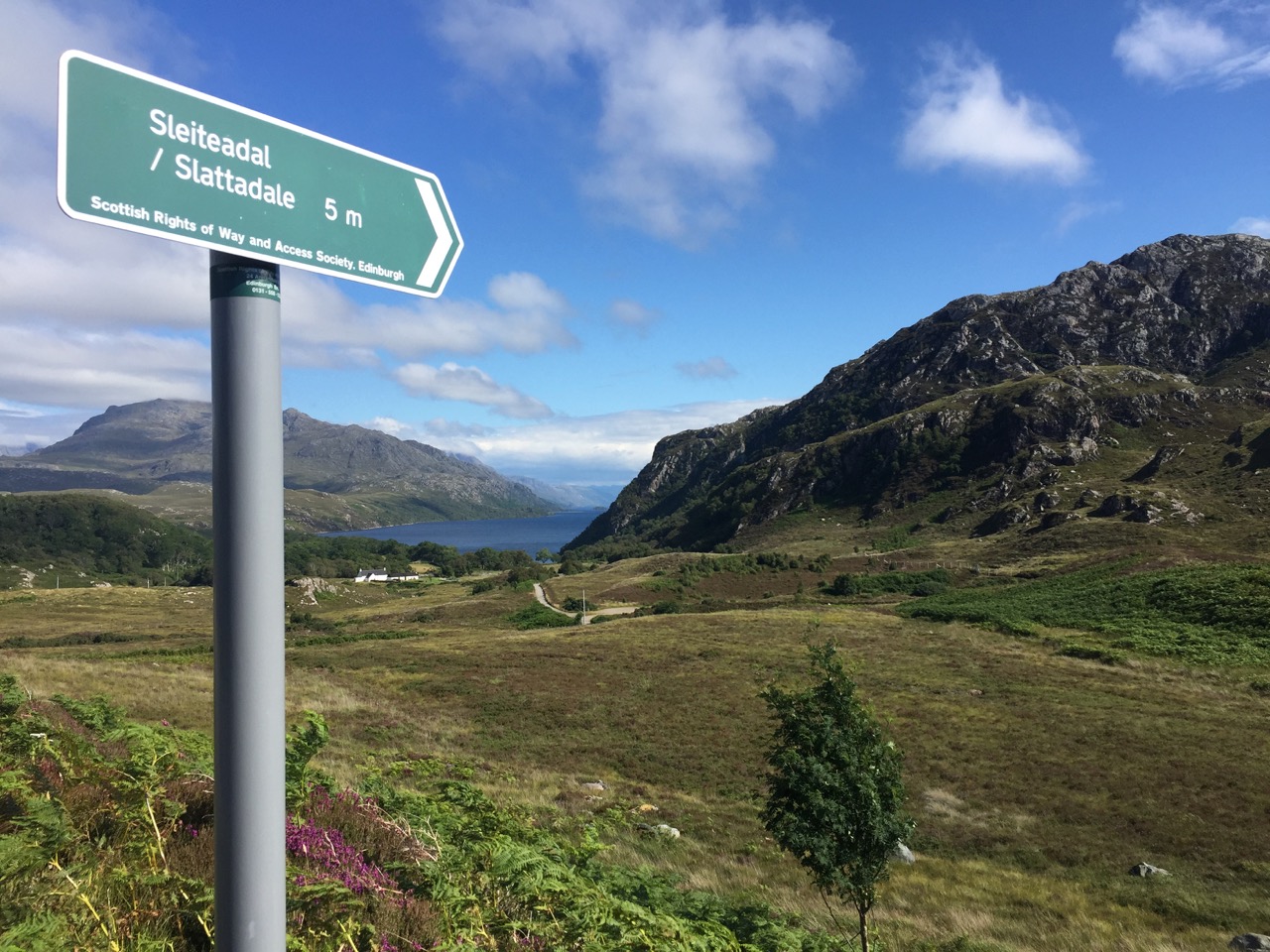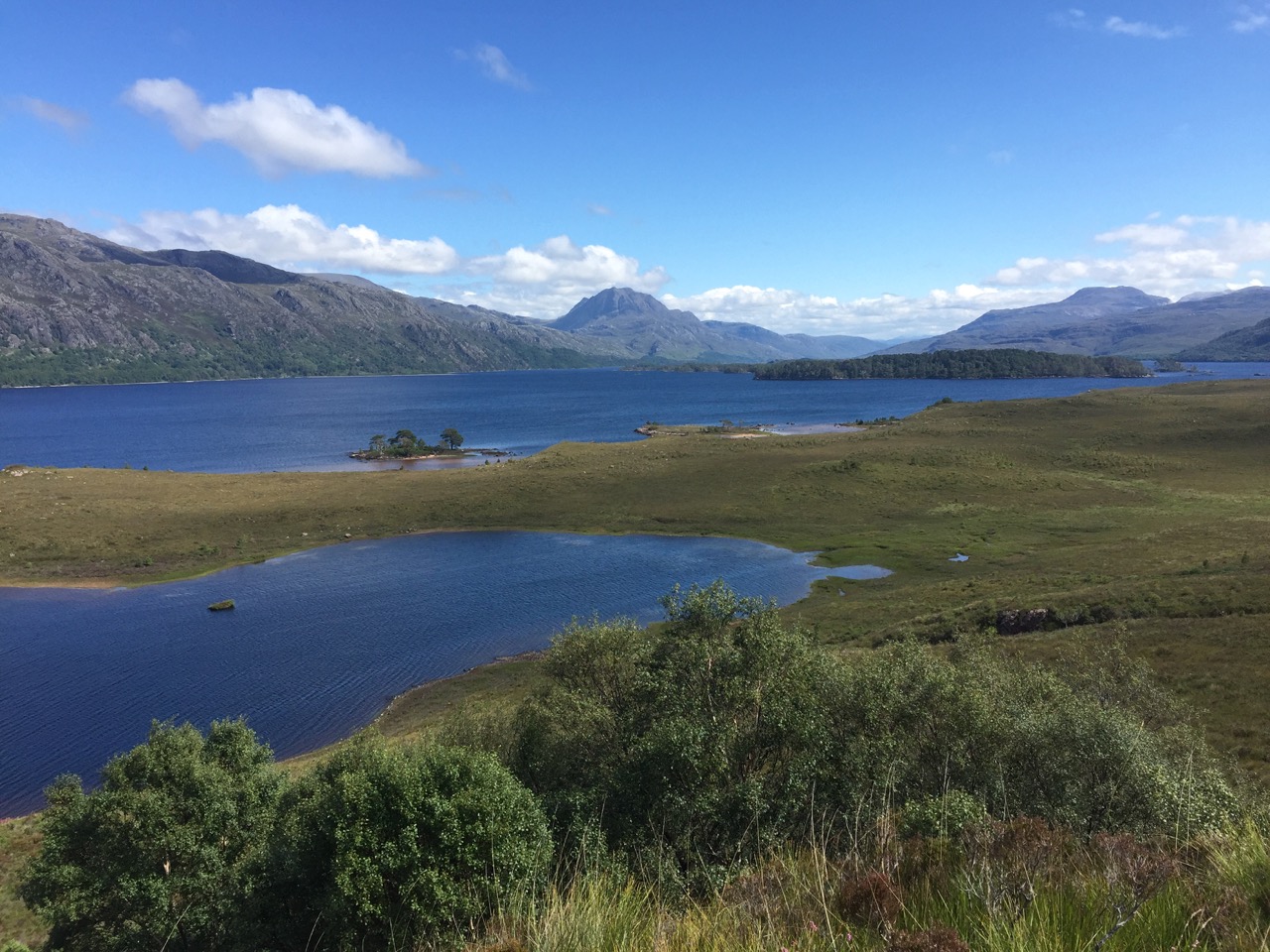 I had first seen Loch Maree in the documentary A Highland Haven (recommended to watch!) and have been wanting to see the loch since then. My dream was to see the black-throated diver, but we weren't that lucky. It was great to see the national park on the loch anyway. We did spot some eagles very high in the sky.
The walk took most of our day and we went back to the campsite to rest our sore legs afterward.
Click here to back to the top of the page
Day 7 - Rain has cometh
Our luck with the weather couldn't last forever. We woke up to a drizzle and quickly packed our stuff. We made breakfast in the common room (yay for this luxury!) and left. The rain really started to get heavy now as we made our way to Inverewe Garden. I have to practice what I preach, so we put on our rainproof gear and went inside the garden despite the heavy rain.
The Inverewe Garden is really great, albeit a little pricey. It's a garden full of tropical plants and trees, which is made possible by a wall that shelters them from the worst of the Scottish weather. Apparently, the gulf stream is pretty mild in this part of Scotland too, but don't quote me on that. Whatever the cause, the garden is very beautiful and big! In better weather conditions we would have taken longer to explore it, but after 1,5 hours we went back to the car.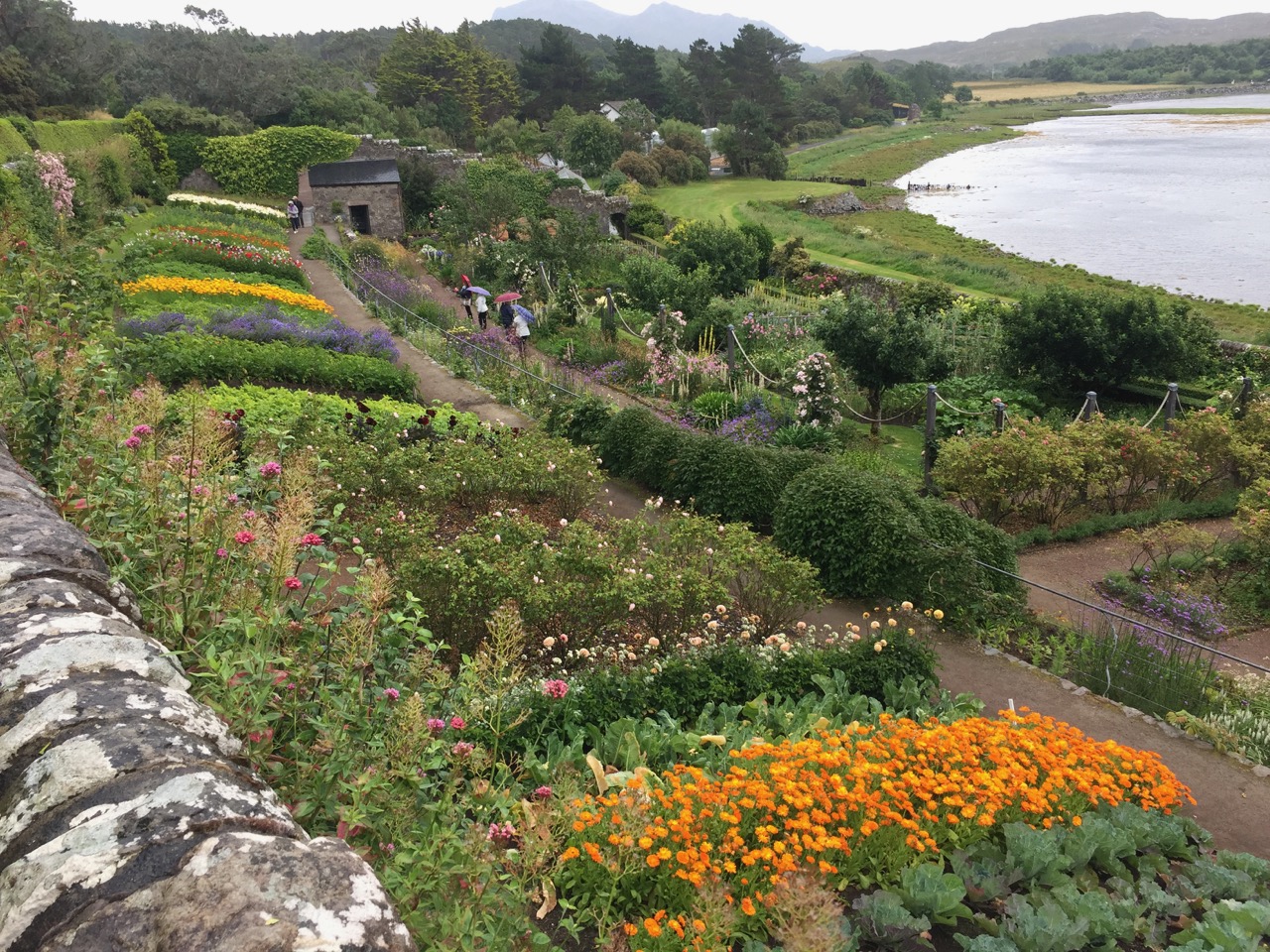 We drove further north to Lochinver. It was breathtakingly beautiful all around us, even in this weather.
We made a short stop at Corrieshalloch Gorge, just south of Ullapool. The weather cleared a little, which was lucky for us. We explored the gorge, which is a really easy activity to do. Just a 5 minute walk from the car and you're there. The gorge is not very wide, but surprisingly deep and with a nice waterfall.
We didn't stop in Ullapool and Ardvrek castle because the weather was shit and we couldn't be bothered to drag our asses out of the car. In Lochinver, we looked at each other and agreed: no camping today. We scored ourselves a bed&breakfast for the night. The cost is about 3,5 times more than a night on a campsite though, not good for our wallet.
To strain our budget even more, we went for dinner at the Lochinver Larder, famous for its pies. The pies were grand indeed, in size and flavor. If you're not a big eater like me, the size of the meal might be too much for you.
We went back to the bed&breakfast to enjoy the comforts of a normal bed.
Click here to back to the top of the page
Day 8 - The most beautiful beach in Scotland?
We listened in horror to the lady of the bed&breakfast, who warned us that the weather would be very bad this day. Wouldn't we like to stay one other night? As tempting as that was, we wanted to go further north. Our fellow guests had told us about a nice wild-camping spot at the beach in Sheigra. We wanted to go there because the beach of Sandwood Bay would be just 2 hours walking away. Sandwood Bay is the beach of which some people say it is the most beautiful one in Scotland. That claim had to be put to the test.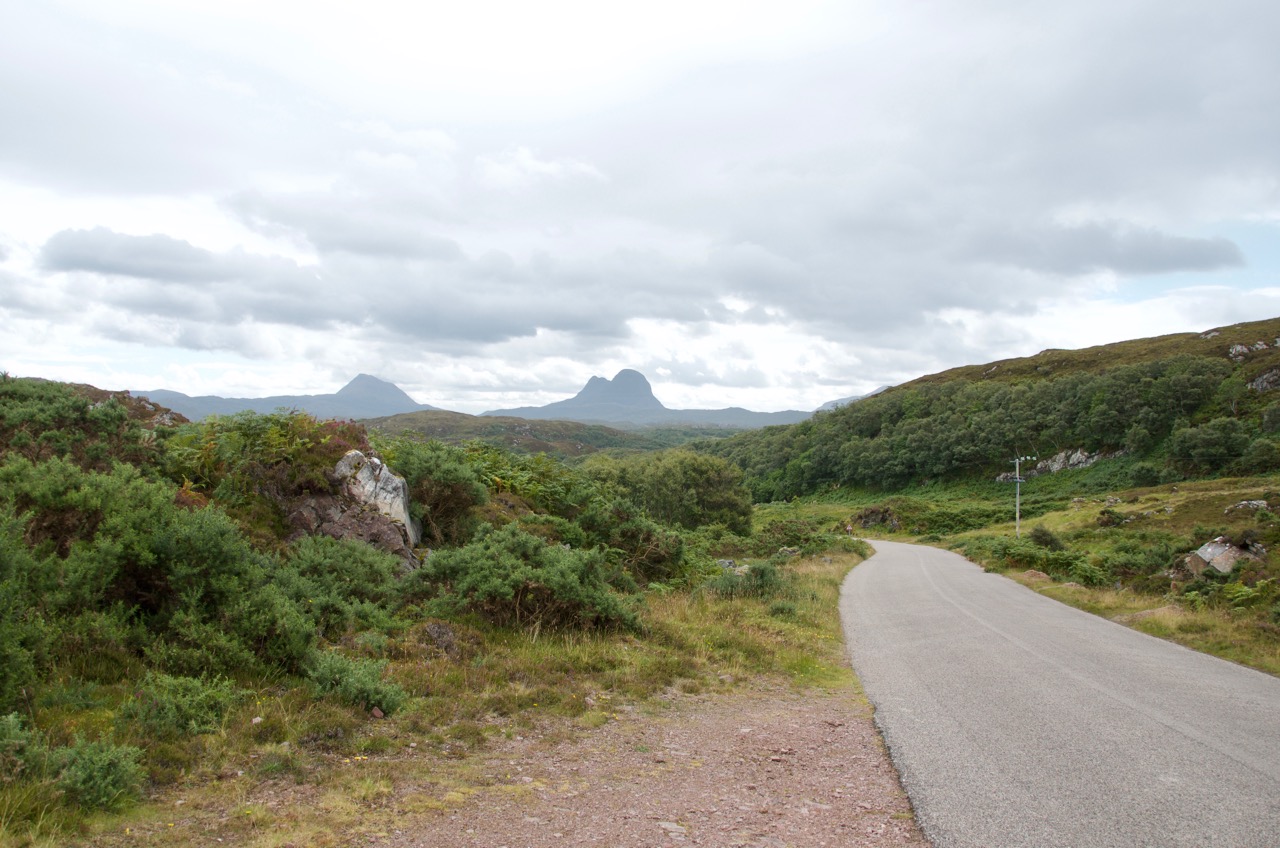 Meanwhile, while driving north, the weather wasn't bad at all. I have no idea which forecasts that lady subscribes to, but it was bollocks. Mount Suilven could be seen just outside of Lochinver. I had wanted to climb that mountain, but couldn't this time. Oliver isn't the biggest fan of hill walking and this vacation has to be fun for both of us. I'll go back to this region to bag some Munros another time.
We went to some smaller beaches around this region and they were all very nice. The water was clear and came in different shades of blue. For some reason, the Scots like to place their burial grounds near the beach. After some contemplation, it started to make sense to me. I'd want to be buried there, right next to the beautiful ocean.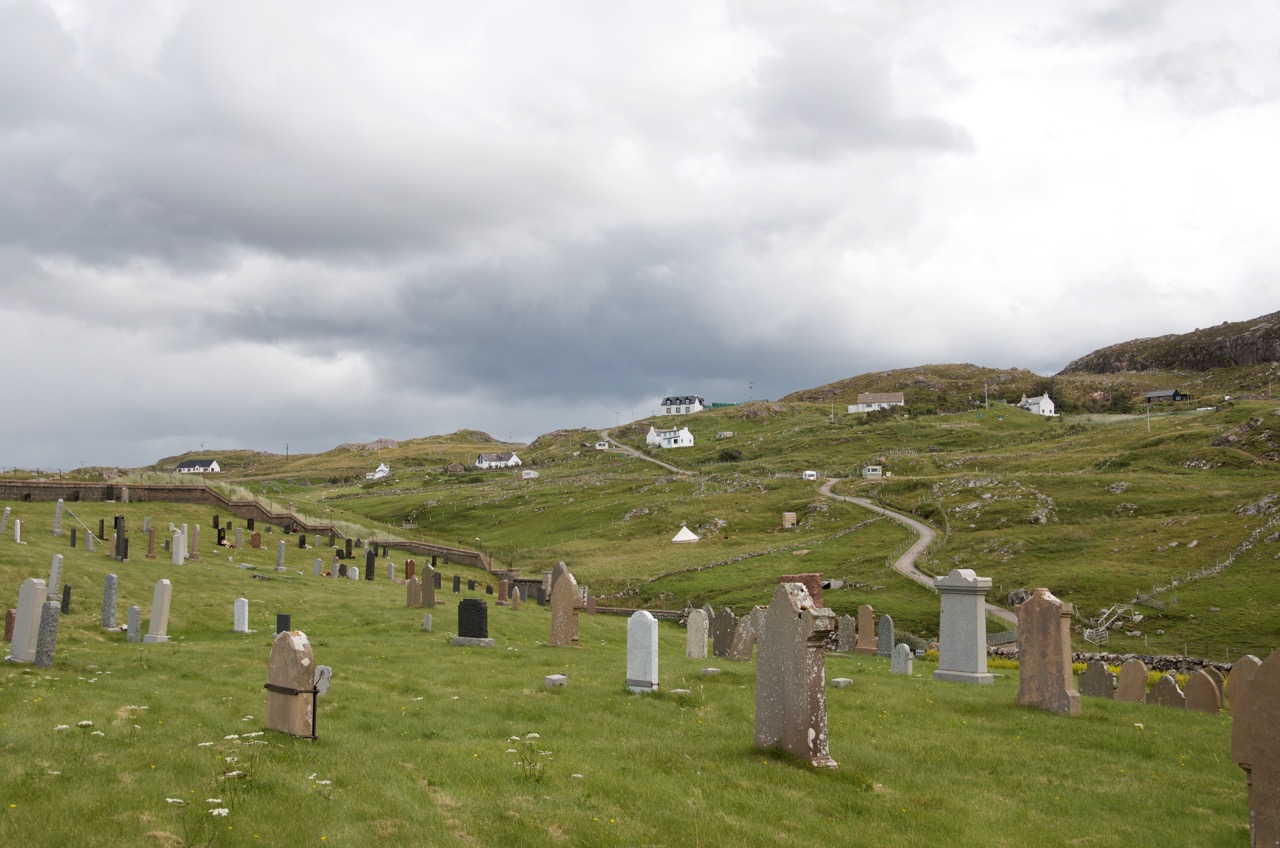 We drove onwards. It's going to be boring, but the landscape was insane once again. Insanely beautiful, of course. The rock in this area is very old, millions of years old. We learned more about this in the Rock Stop, run by a very nice gentleman who is more than happy to tell you about the history of this region (which is now a UNESCO Geopark). The position of the Rock Stop is significant. From the window, you have an amazing view of the surrounding mountains and you can see the quirks in the rock. Because of an ice age, older rock has been shoved on top of the younger rock. You can see the difference because of the color (more grayish versus more brownish) of the rock. I'm not a geologist, but if this sort of thing interests you this stop is a must.
This part of the Highlands is like no other. The mountains are so bare and oddly shaped. The road turns constantly, giving you another panorama to gape at. My words cannot do it justice. I really fell in love with this north-western part of the Highlands and I will go back, hopefully soon.
After some more driving, we arrived in Sheigra. To get there, you must branch off the NC500 route for a little bit (30 minutes). I recommend doing that in any case because there's also the parking lot to start the walk towards Sandwood Bay.
We pitched our tent at the wild-camping spot first. It wasn't easy to get there! We saw a camper-van without 4-wheel drive get stuck, so be careful. Our little car has rear-wheel drive and didn't have any problems, thankfully. There was a strong wind at this point, so we had to be very particular in pitching our tent. At 4 PM, we set off to start our walk to Sandwood Bay.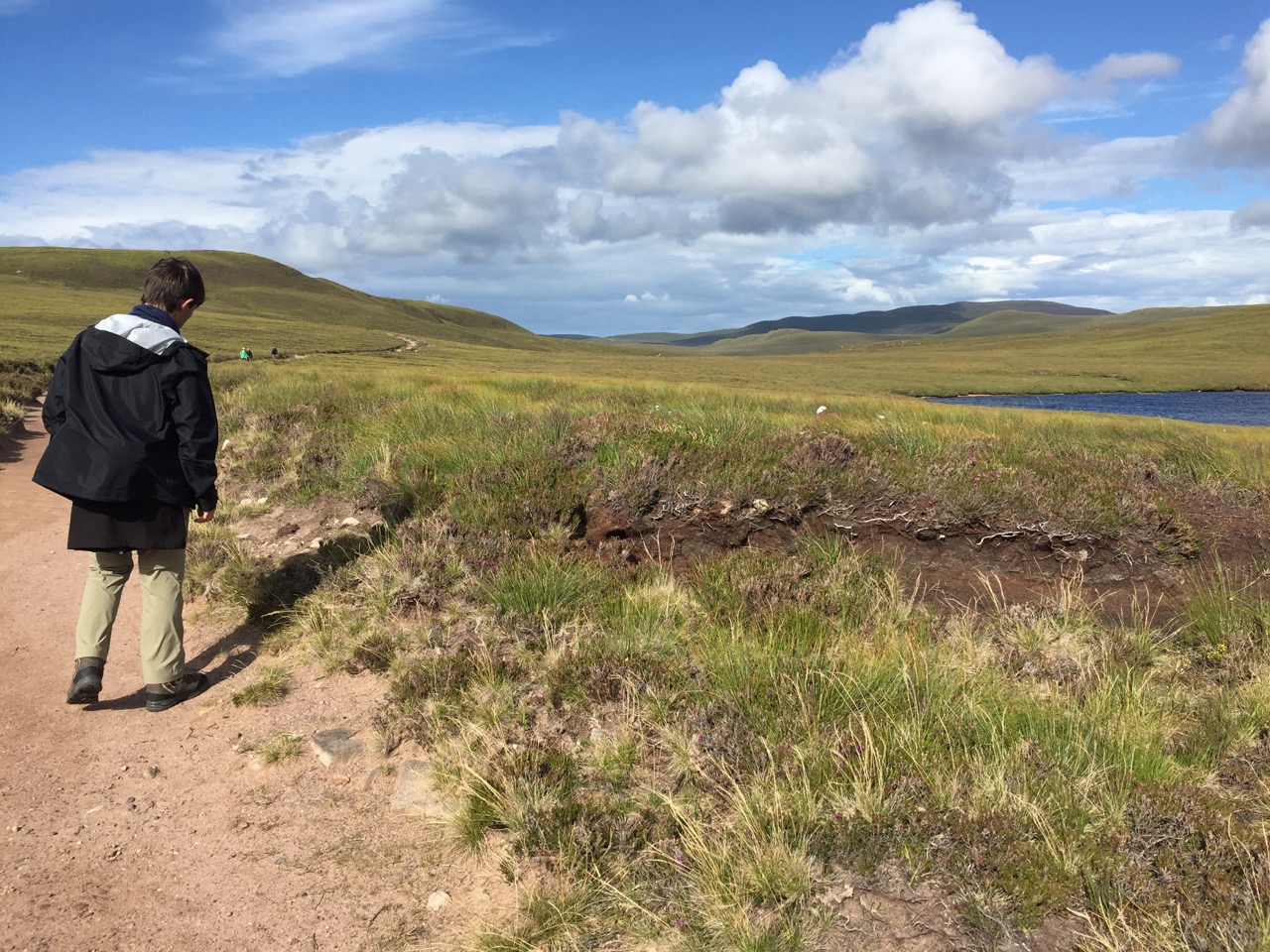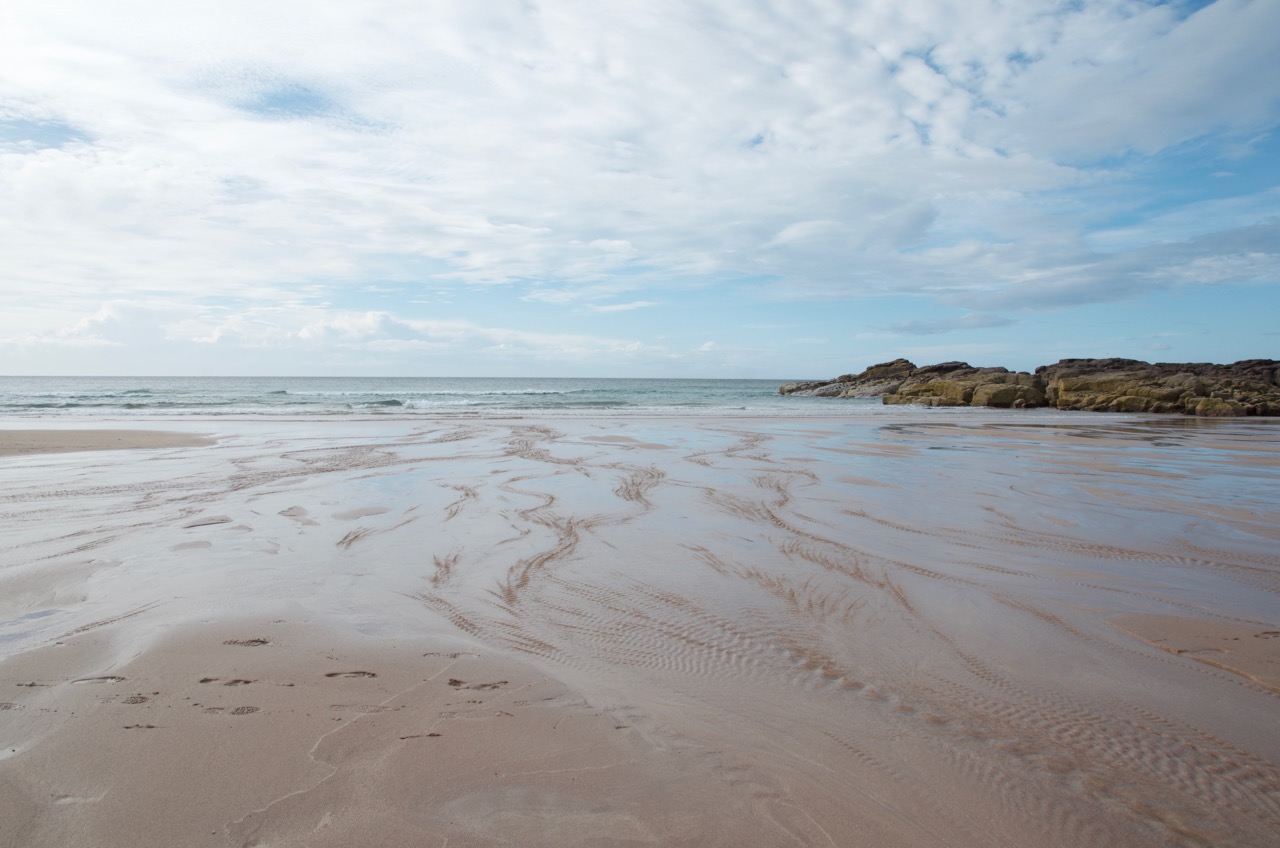 There's no other way to reach Sandwood Bay except by walking. The walk is a very easy one and I was thankful for it because these 4 miles deter many people from visiting Sandwood Bay. Sounds harsh maybe, but there's something magical about visiting a beach with barely any others around. In fact, because we arrived late in the afternoon, we had the beach practically to ourselves. Not that the beach is small at all, it's 2 miles wide, plenty of room to share it with others.
Truth be told, the beach is grand. We, again, were lucky with some sunshine to accompany us (although the wind was blowing pretty hard in our faces) so the water glistened in the sun. We admired the beach and the stack of Am Buchaille for a while. Is it the best beach in Scotland in my opinion? I'm inclined to say that the beaches I saw on the Isle of Lewis are even better than this, but Sandwood Bay comes close!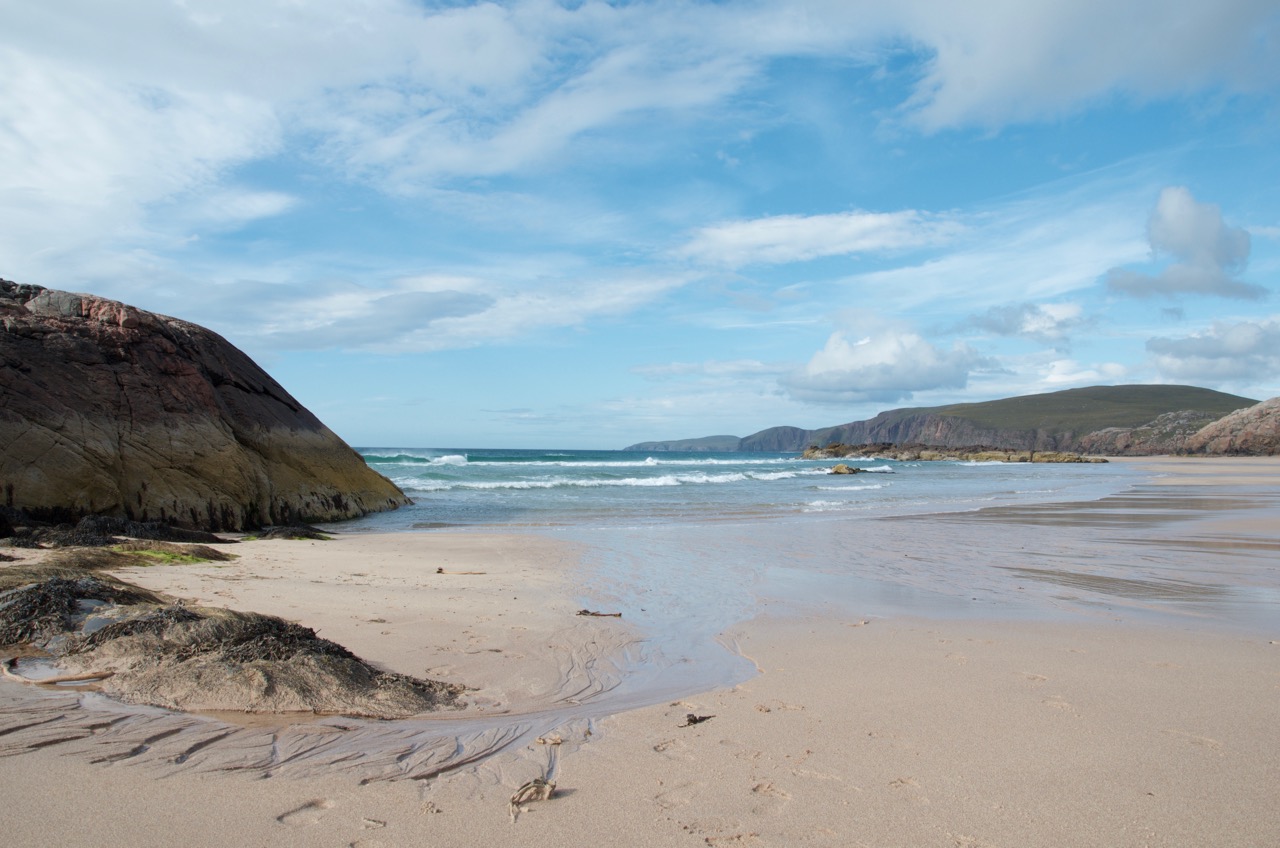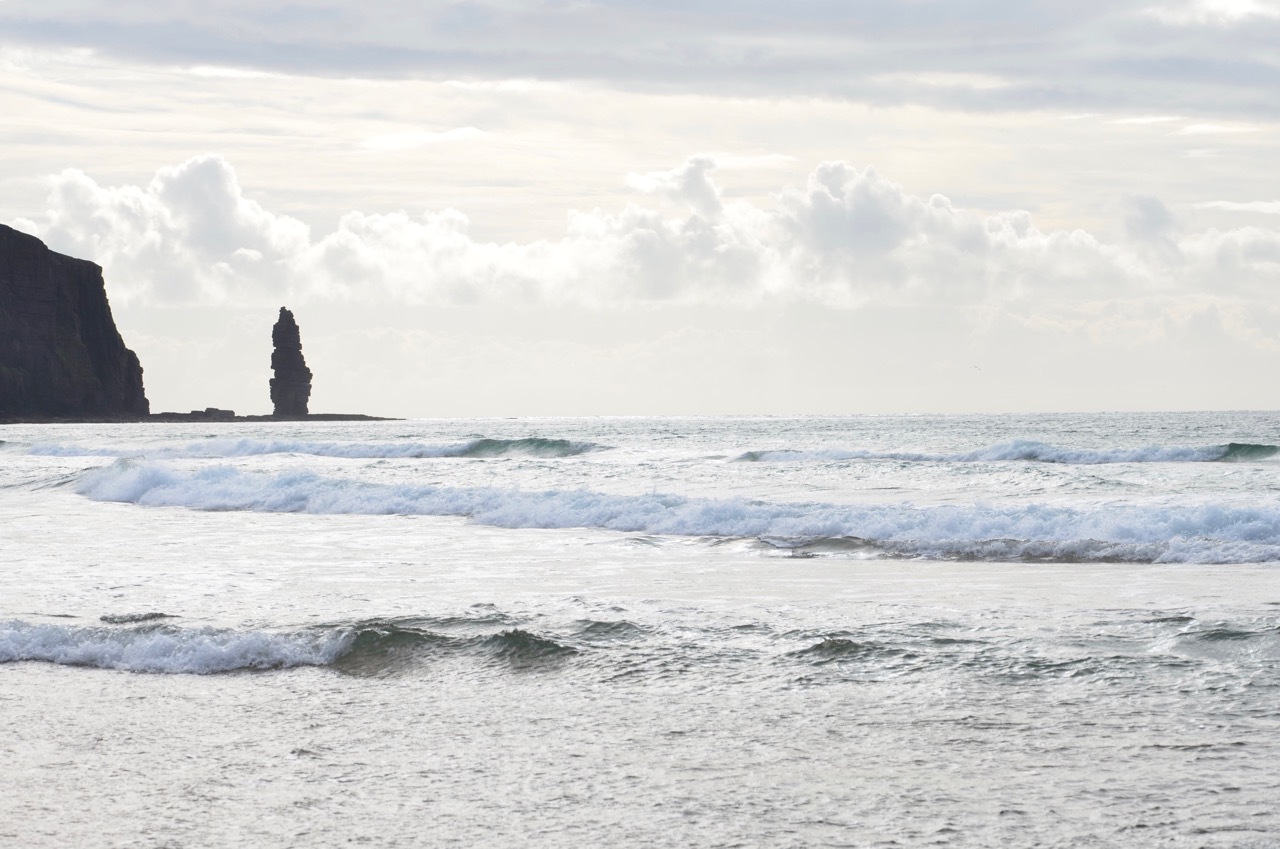 When walking back to the campsite, we met some American travelers who were driving the NC500 in just 4 days! They also admitted it was madness, but with only 10 vacation days a year, they didn't have the luxury to take more time. Their vacation was one week in Scotland and one week in Ireland and that was it. I made a mental note to count my blessings.
Upon coming back to our camping spot, we noticed that the wind was gone. That's nice, but that also means midges!! Every night without fail, the wind would go away. Why!!?? Why plague us with that devil's spawn, the midge. Next time I'm going to Scotland I'm going to bring a bunch of big Cuban cigars and smoke the midges away.
Click here to back to the top of the page
Day 9 - Some bad luck
Beyond driving to Durness, the most north-western part of the route, we didn't have many plans other than pitching our tent on the campsite there. But none of our plans came to fruition this day.
The drive to Durness went well enough and we enjoyed some chocolates in the Cocoa Mountain Cafe.
Durness itself was a little underwhelming to us, but we also found out the campsite was full and they were having their Highland games today. After our last experience in Applecross, we decided to nope out of Durness and go further east. We had beautiful vistas over the ocean and stopped a few times.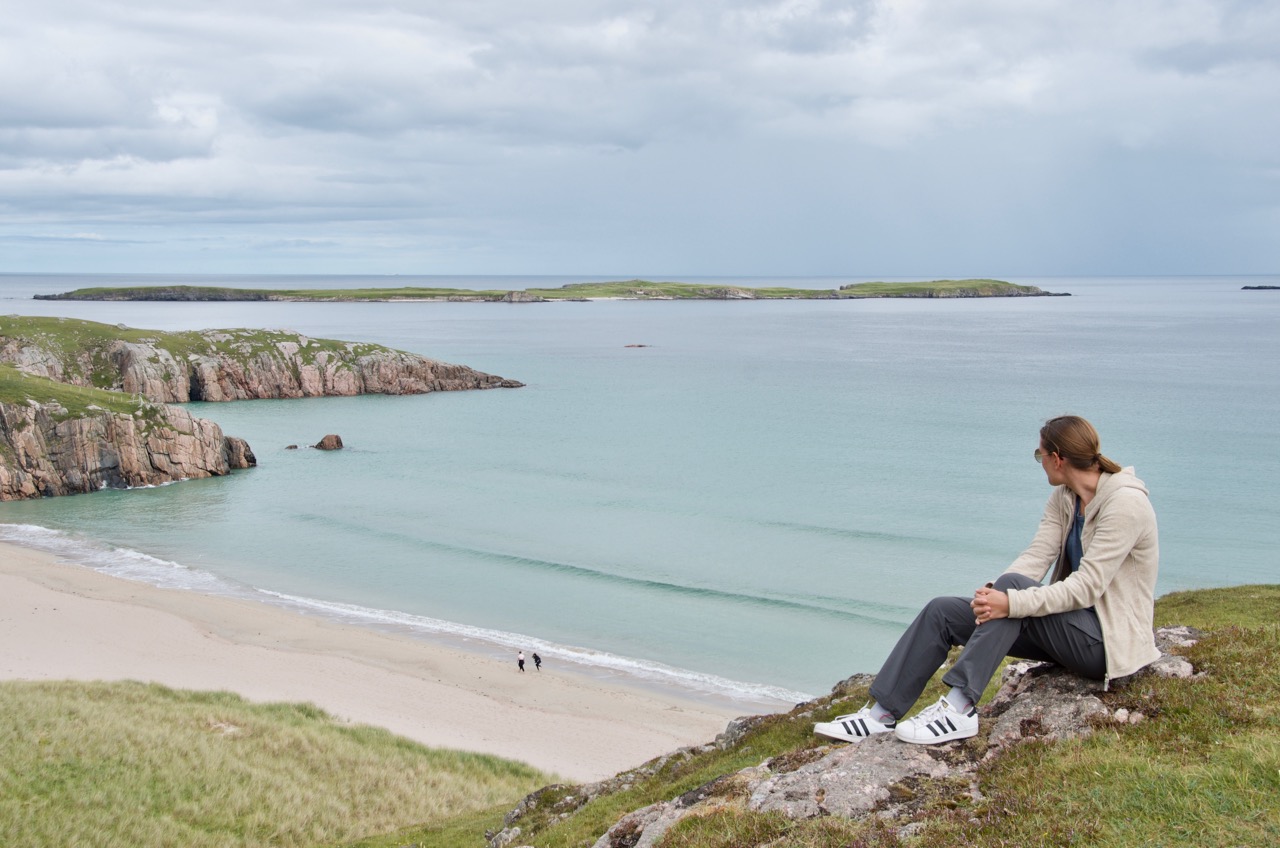 We tried camping at the hostel in Kyle of Tongue, but it was privately booked. We then drove to a tiny campsite in Midfield, but it looked very badly maintained and it was midge infested. We had pitched our tent already before admitting to each other that we wanted to leave. When we learned from the warden that one night at this crappy campsite would cost us £18, the decision to leave was an easy one. We drove further east, to Dunnet. Another campsite that was full…
That's how we ended up in Wick already. We had gone from the west coast to the east coast in one day, that wasn't exactly the plan! Wick isn't an inviting town when you look at it, but the campsite I can highly recommend. Very friendly owners, nice grassy fields to pitch up and clean toilet facilities. We ended up staying for 3 nights because we were tired of pitching the tent every day.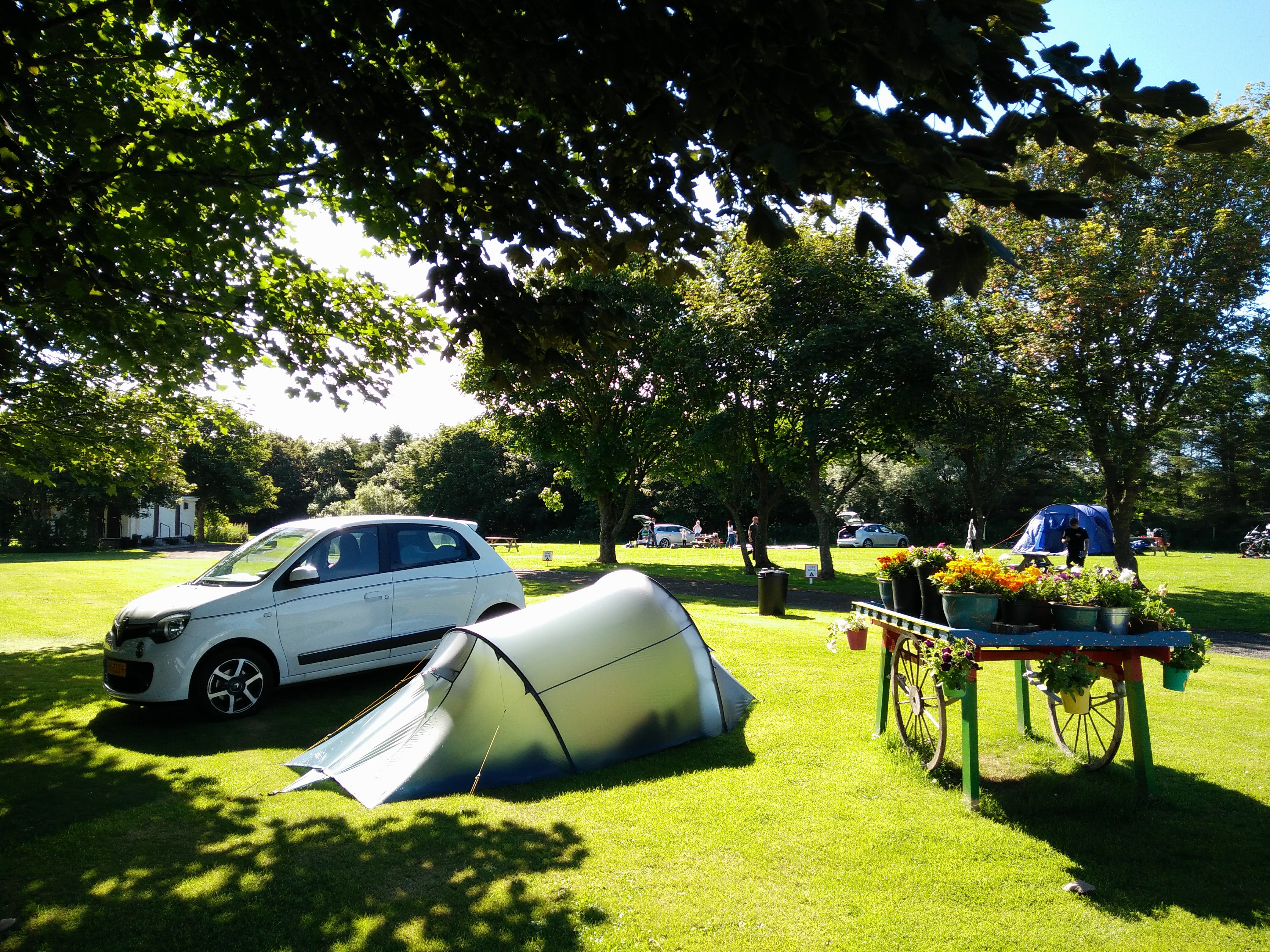 What took us by surprise is how much Caithness (the north-east area of Scotland) looks like the Netherlands. It's mostly flat, there are cows and the weather was very Dutch too. That's why we would have preferred to drive the route counter clockwise because honestly, we like mountains more.
Click here to back to the top of the page
Day 10, 11 - Exploring around Wick
From our base in Wick, we did activities every day. One regular activity became to visit the pub in town, the Alexander Bane. They had good, cheap meals and they spared us the need to cook our evening meals (yay!).
We had skipped John O'Groats on our drive to Wick, which is the most north-eastern part of the NC500. We went back to see it and we had a good laugh. What a tourist trap. It's just a bunch of depressing looking shops and a sign. Not much to see there.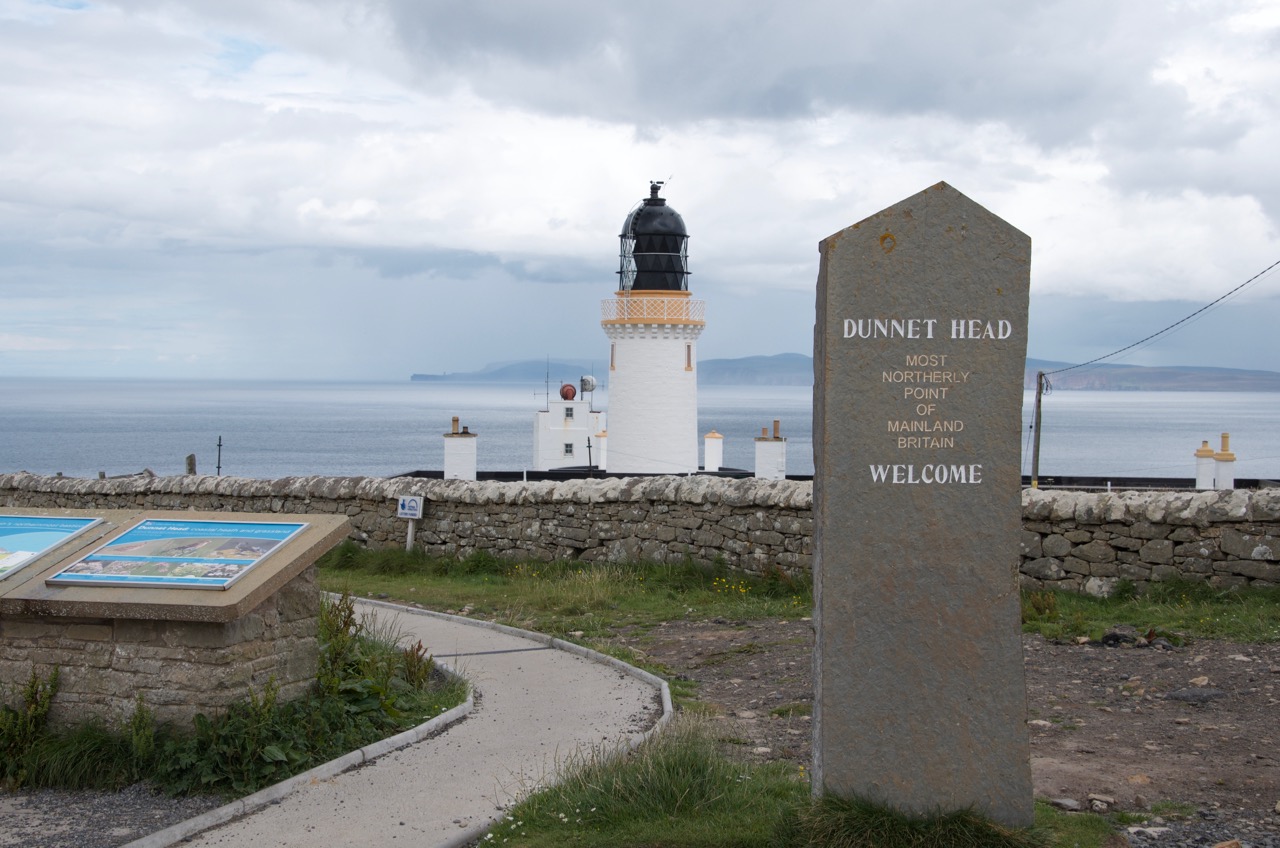 We also went to Dunnet Head, the most northern part of the British mainland. It was very beautiful, with views over Orkney, but sadly we were being hunted down by midges. Later, I learned from a woman at the campsite in Wick that we could have seen puffins there… that made me a sad panda. After Dunnet Head, we went to Dunnet Bay distillery for a tour. We got to taste some of their gins and learned how they make it. This distillery is pretty young, but already very successful!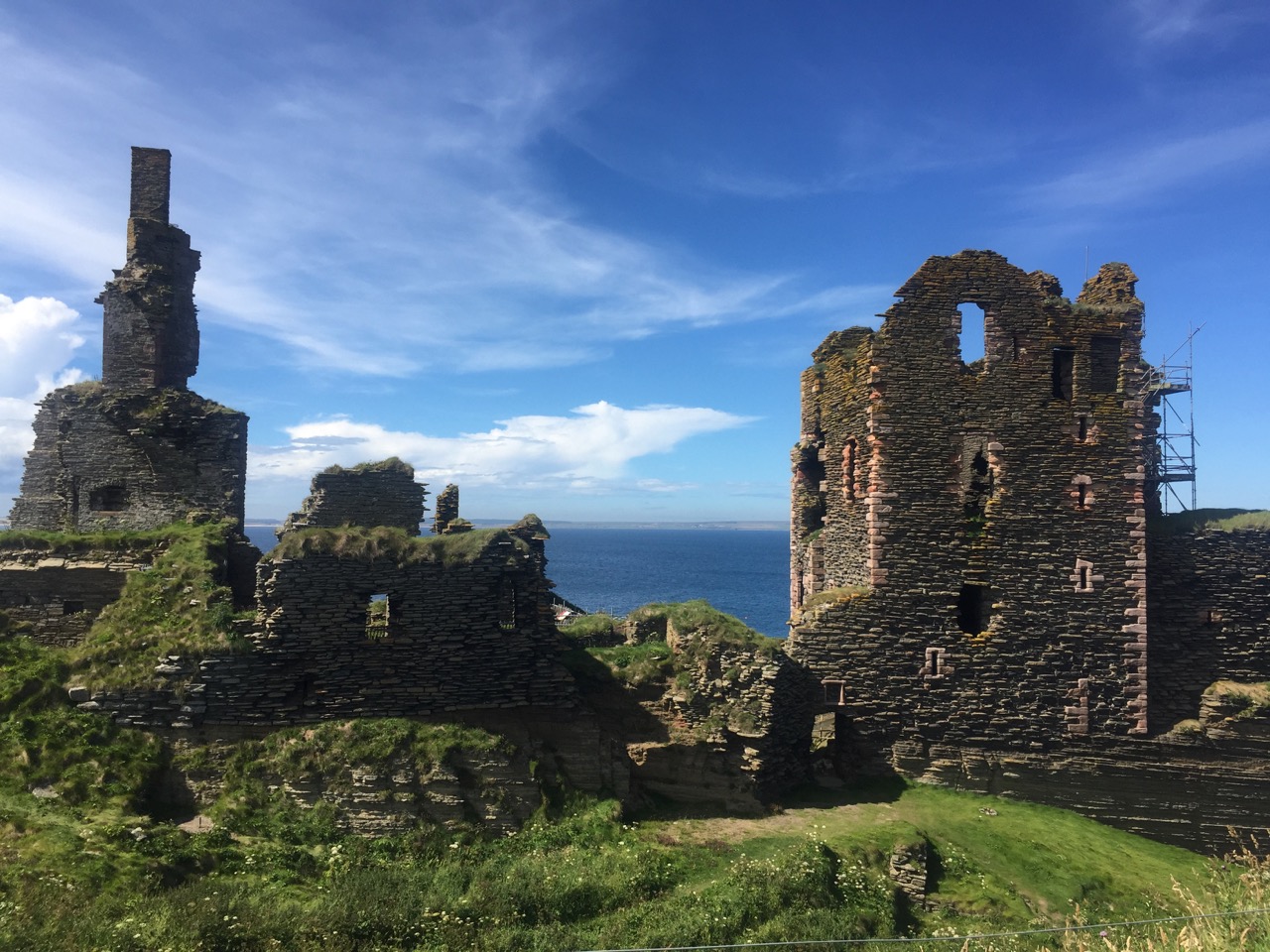 We visited Sinclair Girnigoe castle, which is more of a ruin than a castle, to be honest. It gave me some Harrenhall vibes, for those of you who also watch Game of Thrones. Cool place to visit and no entrance fee.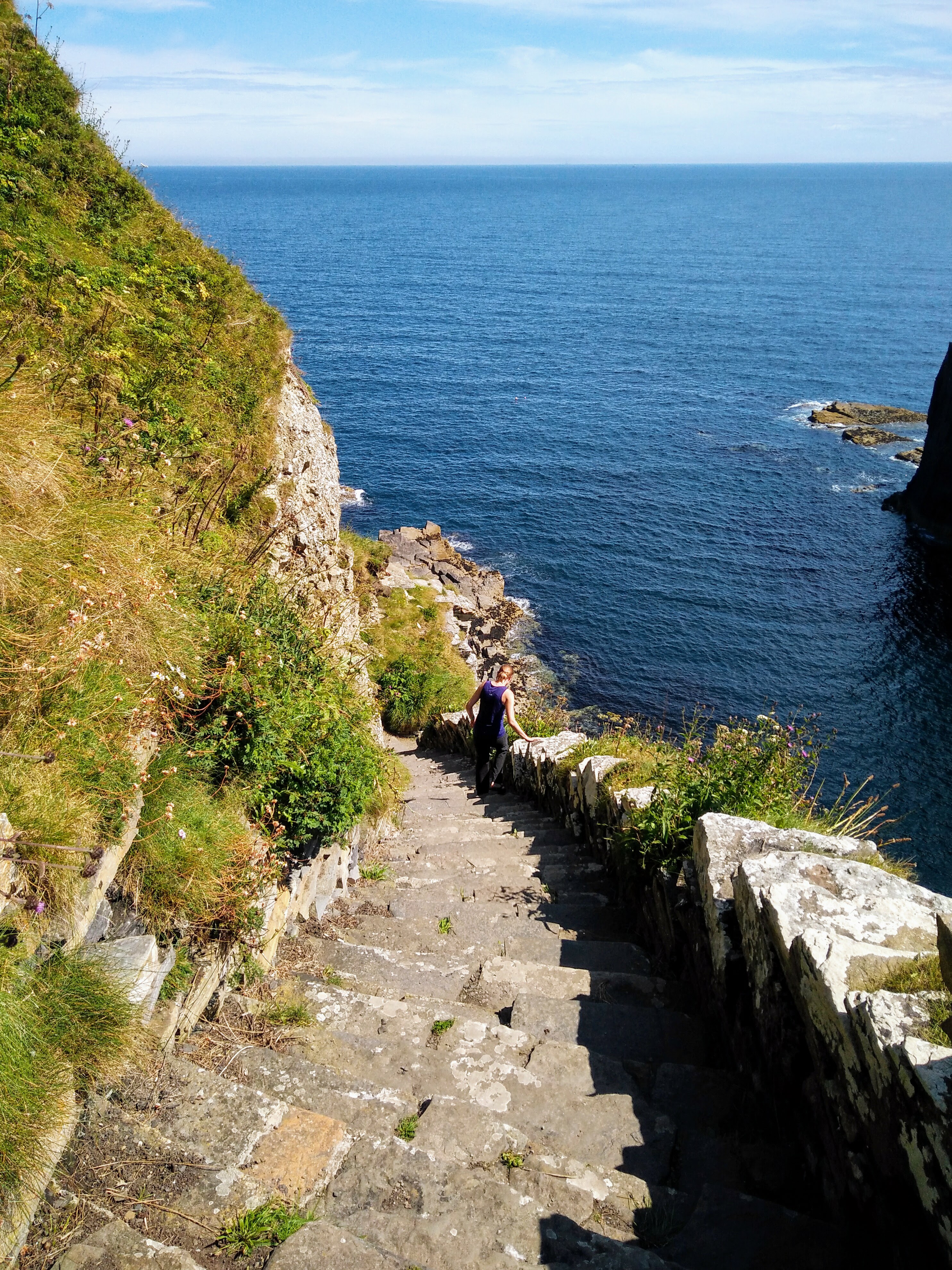 We also went to the Whaligoe steps, just south of Wick. These 300 something very steep steps were used by women back in the day. They would carry the herring that the fishermen had caught to the top. Not an easy feat! The herring industry is long gone, but the steps remain to imagine how it once was. Us modern folk don't have to carry anything but our camera to take a few pictures of the view.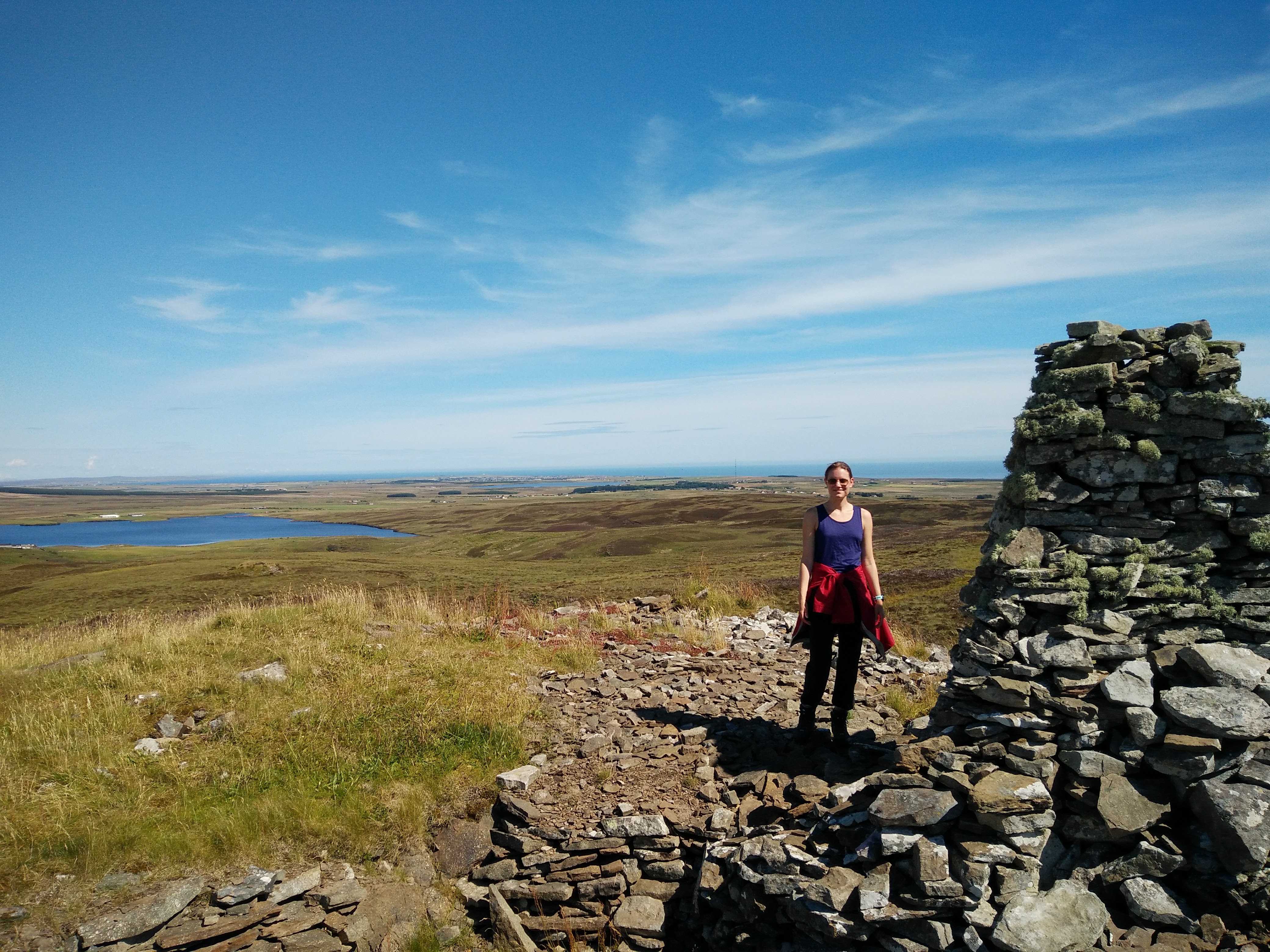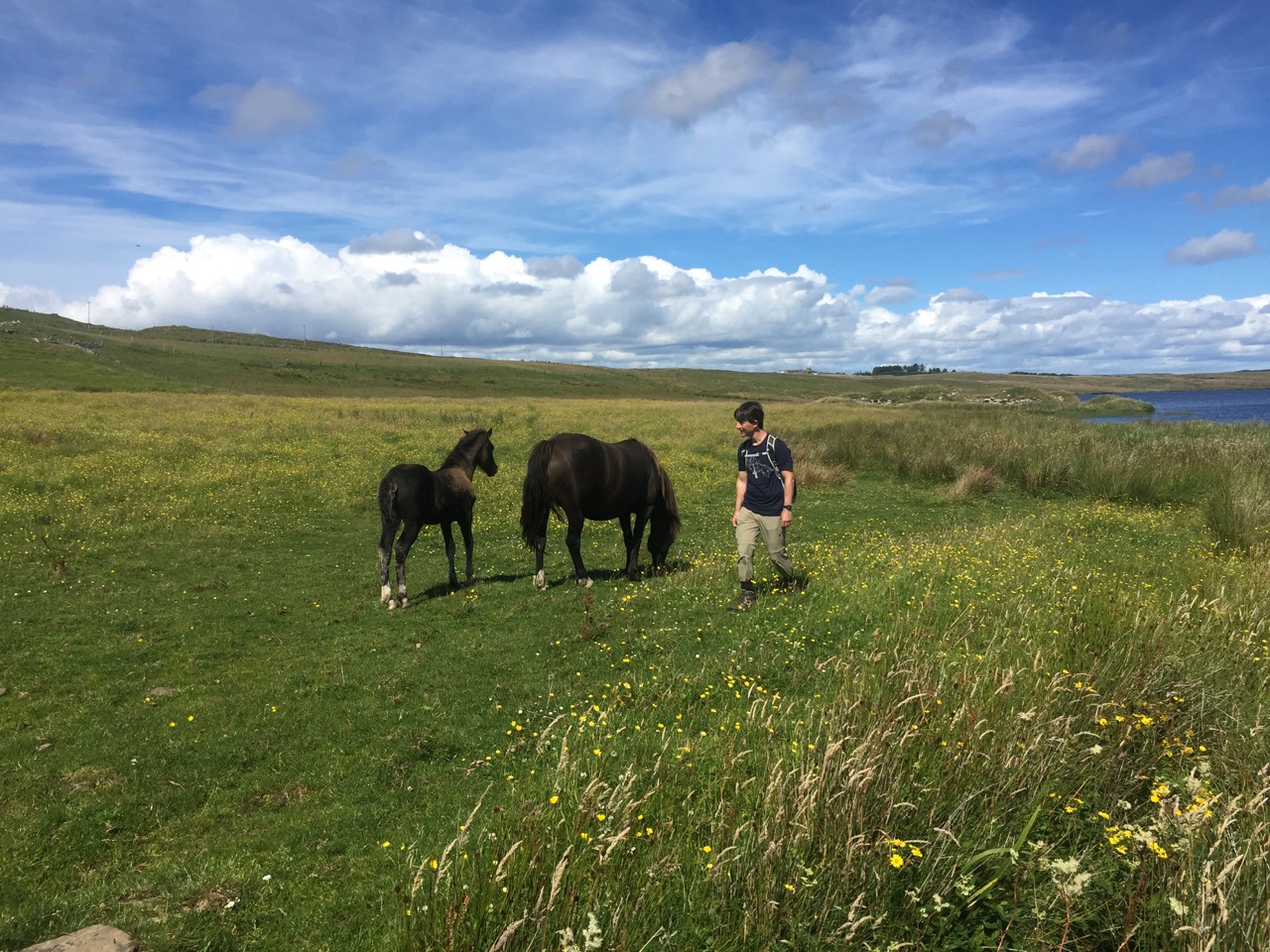 Close by the Whaligoe steps is the Yarrows Archeological Trail. This short 1,5-hour walk leads you past a couple of cairns, burial structures from the old age (I honestly don't know how long ago they were built). Some of the cairns are pretty well preserved and they give you a glimpse of how we used to bury our important fellow humans.
Click here to back to the top of the page
Day 12 - Dunrobin Castle
We drove further south to see the Dunrobin Castle. This castle is unlike any other I've seen. It looks modern, almost. Quirky, too. The interior of the castle is nice, I suppose, but I was more interested in the garden and the falconry show.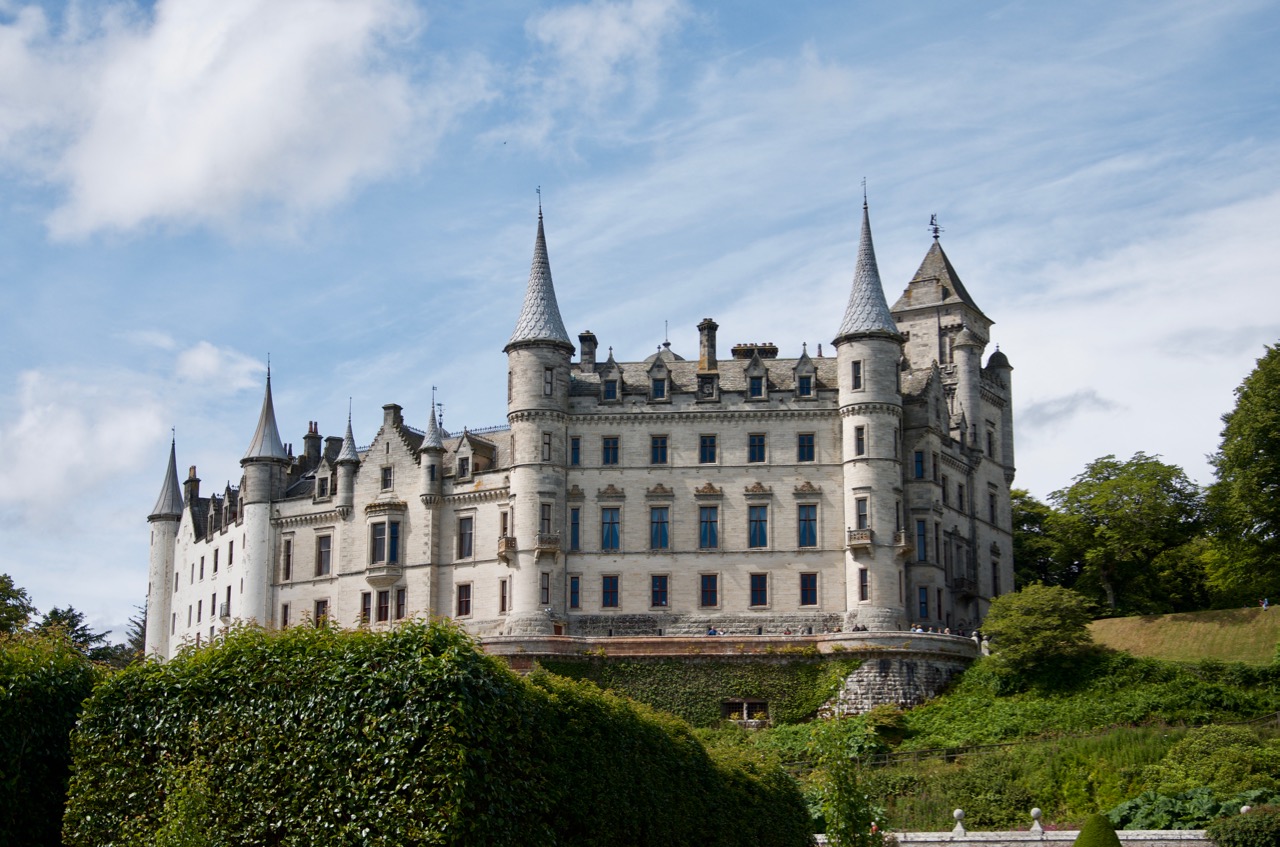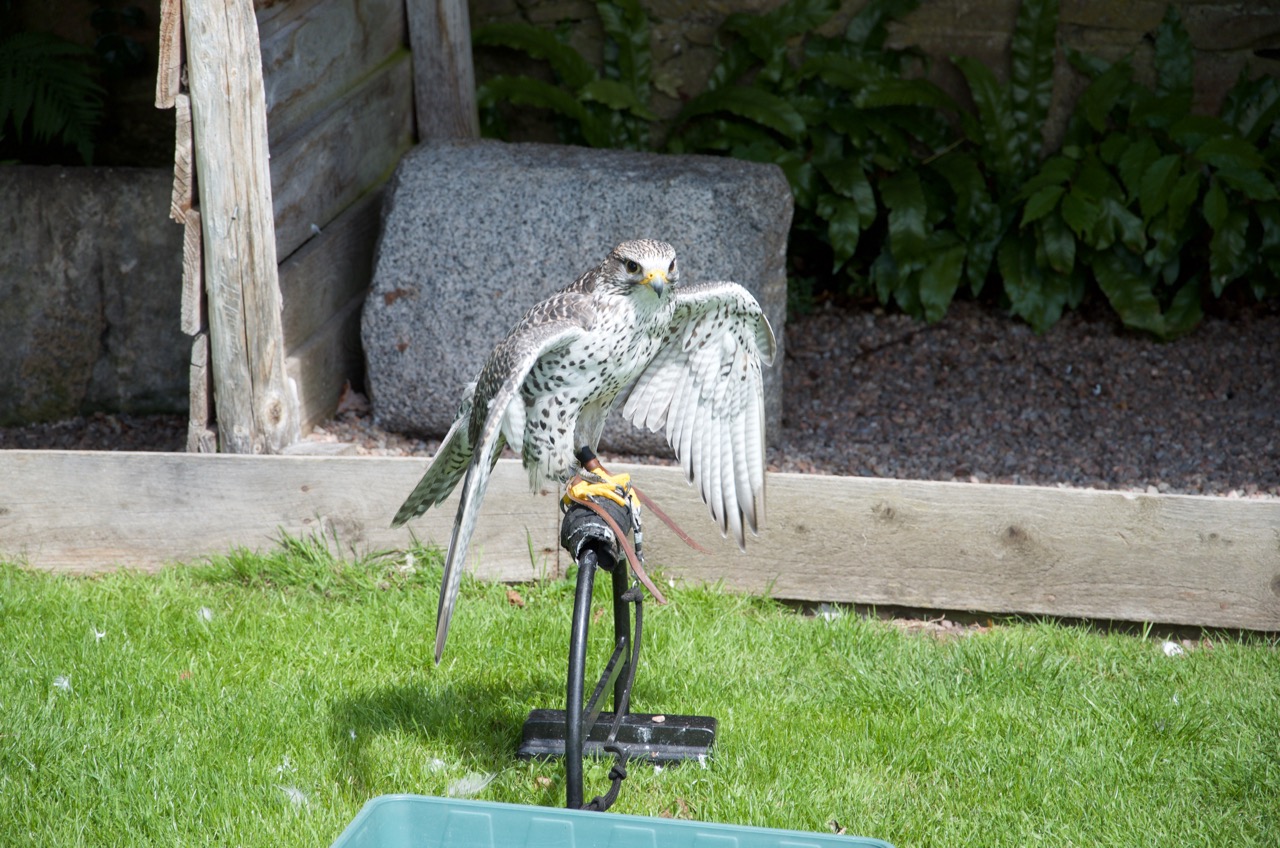 I'm a big bird lover and therefore was really looking forward to the falconry show. Some other birds were on display too and we took our time to admire them. The show itself was, in one word, amazing. The guy who did it was very funny and obviously spent a huge amount of time training his birds. He told us a bunch of facts about different types of falcons and how they hunt. He takes them on actual hunting trips, so they aren't confined all the time at all. In fact, they need to fly for quite some time every day in order to stay in shape. If a bird is confined too much, their fly-muscles are too weak to fly for long periods of time.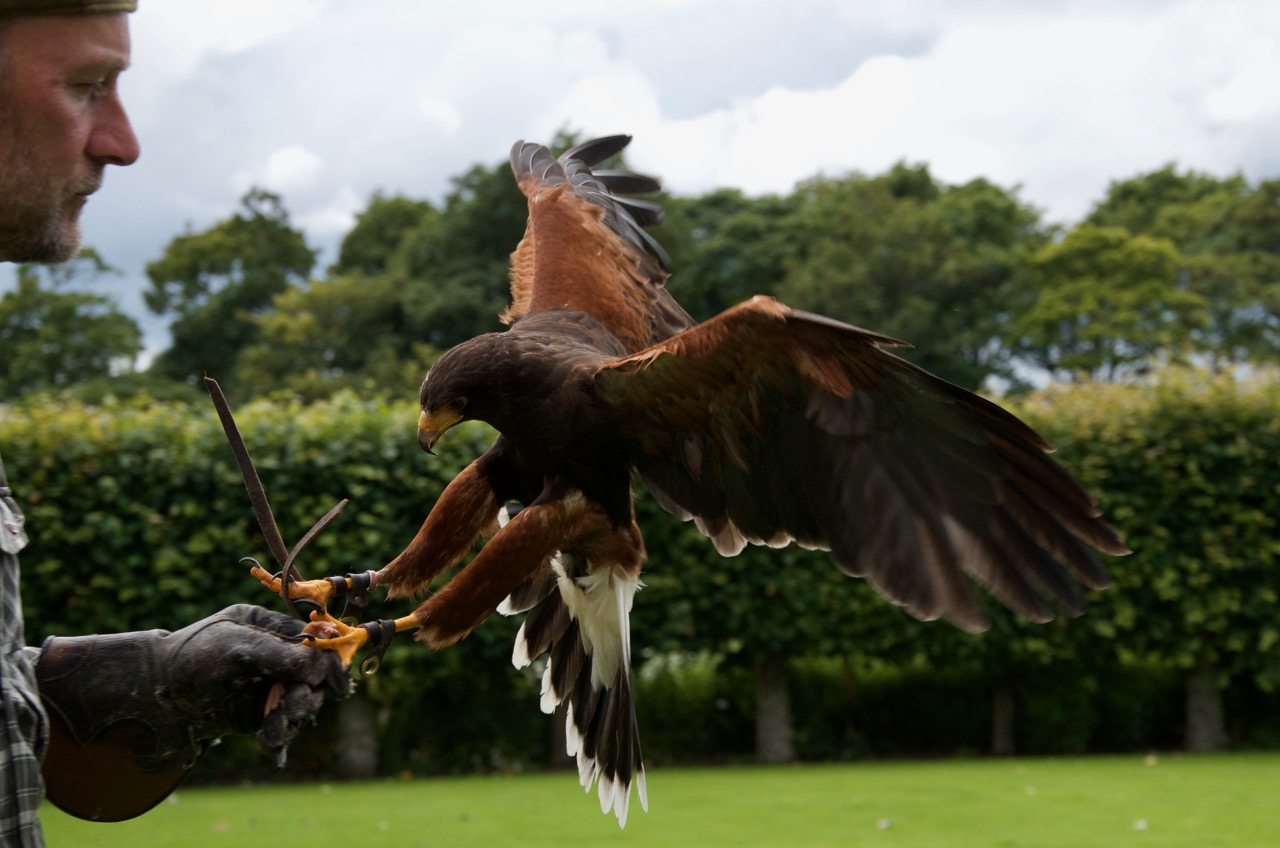 Right after the falconry show, it started to rain, so we took that as our cue to get back to the car and drive to Dornoch. The campsite at Dornoch is quite large and didn't really have a wow-factor for us (we were spoiled at Big Sands Campsite), although it is situated in the dunes. It was decent enough, I guess.
Click here to back to the top of the page
Day 13 - Grey Inverness
We went to Inverness and that's how our time on the NC500 ended. In nice style, the weather was just utterly miserable in Inverness, so we hurried to get somewhere warm and dry to have lunch. It was really odd for us to be back in such a busy town. We were getting used to the quietness of northern Scotland and when we passed a couple of cars in a row it was 'busy' for us. Now we got stuck in traffic and we saw roundabouts and all that crazy stuff.
Inverness, I'm just going to say it: I'm not a fan. It's a bit too grim for me. I just don't understand why people choose to live there when just 30 minutes up north it's so much more beautiful. To each their own. We didn't stay long in Inverness, but waved our goodbye to the NC500 and went to Aviemore. We had some outdoor shopping to do (hiking shoes) and I remembered that Aviemore was basically just a long road lined with outdoor shops and restaurants. We managed to book a very nice guesthouse to once more enjoy the comforts of a bed.
Click here to back to the top of the page
Day 14 - Back south
The shopping-for-shoes mission was successfully completed in Aviemore and we had to make our way south. I wanted to stop at Jedburgh to show Oliver the abbey, which I thought was very beautiful 7 years ago.
Sadly, our luck with the weather had really left us. Jedburgh was soaking wet. According to the campsite owners, it had rained a lot in the past months already. This made pitching our tent very hard. There was barely any grassy spot left that hadn't turned into a mud pool yet. Not a great night at all.
Click here to back to the top of the page
Day 15 - Harwich, hello again
We ended up not even visiting the Jedburgh Abbey because of the weather. Not in the greatest of spirits, we started our long drive south. We left Scotland in the most miserable weather possible, what a way to say goodbye. The drive in England…I won't bore you with the details. It was long and my back didn't benefit from sitting in the car that long, let's leave it at that.
We pitched our tent at the Strangers Home campsite once again and had the strangest conversation with an older man in the pub. It turned from a convivial conversation to him saying "Scottish people are shit" and "We English people saved you [the Dutch] from the Germans in World War II" and "I'm glad we are leaving the EU, we are paying you guys way too much" in literally 1 minute. It was an astonishing feat. And with that, our vacation had almost come to an end.
Click here to back to the top of the page
Day 16 - Home flat home
After a last uncomfortable night in the tent (let's not pretend those air mattresses are just as comfortable as a bed, please) we packed for a final time and made our way to the harbor. The boat journey was smooth again and at the end of the afternoon, we were back in the Netherlands!
We both look back at this vacation with a smile on our face. The North Coast 500 is beautiful to drive and we were overall pretty lucky with the weather.
Thank you for reading this gigantic blog post! If you have any questions about the route, please reach us by mailing to info@sensibly.nl or by visiting our Facebook page.